Harold & Kumar Escape From Guantanamo Bay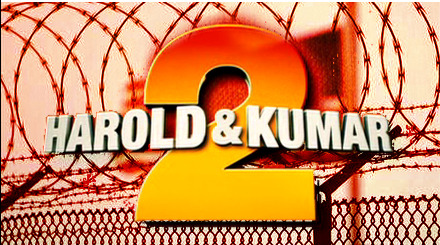 Harold and Kumar 2 doesn't know what to call itself. Originally the production went under the title Harold & Kumar Go To Amsterdam, but New Line abandoned that title because, after-all, they don't actually go to Amsterdam. The sequel follows the cross-country adventures of the pot-smoking duo as they try to outrun authorities who suspect them of being terrorists when they try to sneak a bong on board their flight to Amsterdam. The stoners have a run-in with the KKK, travel to the inner-city where they interrupt a basketball game, before meeting President George W. Bush (possibly in Washington, DC?). And somehow the duo end up in Guantanamo Bay. And that is your new title:
Harold & Kumar Escape From Guantanamo Bay
I'm actually loving it. What do you guys think of the new title?
The movie is set to hit theaters February 8th 2008.
source: AintitCool