Doctor Who Scribe Hired For Spielberg/Jackson's Tintin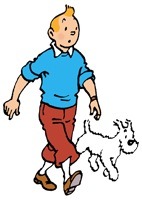 British screenwriter Steve Moffatt (Doctor Who, Coupling) has been hired write an adaptation of the Eurpean comic strip The Adventures of Tintin for Dreamworks. As you already know,  Steven Spielberg and Peter Jackscon have signed on to direct a trilogy of films based on Georges Remi's Belgian. It's a passion project. Spielberg has been trying to get the film rights to the series for more than 25 years. The films will be created using digital 3D performance capture technology.
The Adventures of Tintin is a 70 years series of Belgian comic books originally created by Belgian artist Hergé, the pen name of Georges Remi. The series follows Tintin, a young Belgian reporter and traveller who is aided in his adventures by his faithful dog Snowy. There have been both live-action and animated film adaptations of The Adventures of Tintin.