There Will Be Blood Movie Reviews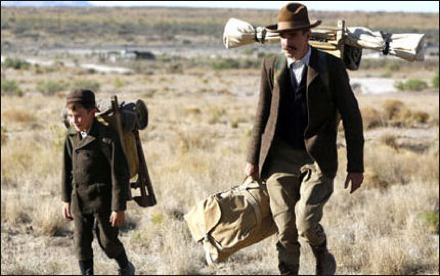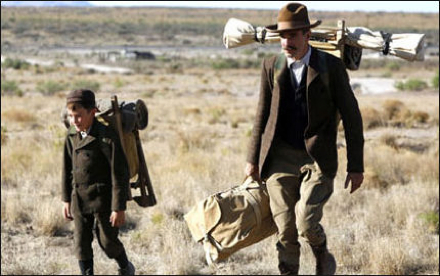 Paul Thomas Anderson's There Will Be Blood premiered as a super secret film at Fantastic Fest in Austin Texas this week, and most people are calling it the best movie of both the year and Anderson's career. We weren't there to see the film itself (you can check out a trailer at this link), so we bring you a gathering of some of the journalists and bloggers who were in attendance.
Harry at Aintitcool: "It is a legendary performance. Iconic and powerful. It is his absolute best work, which is saying something as he has never ever been anything other than great."Marjorie Baumgarten at Variety: "Certain to be rewarded with year-end accolades, Anderson's film is a true American saga – one that rivals "Giant" and "Citizen Kane" in our popular lore as origin stories about how we came to be the people we are.""[Radiohead guitarist and BBC composer in residence Johnny] Greenwood's astonishing score is sure to be one of the most remarked-on aspects of the movie."Hollywood Elsewhere reader Dan Brown: "The film really belongs to Lewis. He commands every frame he's in and is a pleasure to watch. It's a great character and he really sinks his teeth into it. The film is an awesome achievement, and a great step forward for Anderson. A lot of the criticism being directed at Wes Anderson lately does not apply to this Anderson, who is clearly moving in different directions with each new film but still has a strong visual style. I know the film won't be well received by everyone. The two and a half-hour running time might be off-putting for Middle American styrofoams but I was really into the movie right from the start." The most interesting sounding aspect, he adds, is that "the first 15 to 18 minutes of the film are dialogue-free."Scott Weinberg at Cinematical: "Easily one of the year's best films (so far), There Will Be Blood presents a side of Paul Thomas Anderson that we haven't really seen yet — but it's proof positive that he's still one of the finest directors out there right now. You probably won't believe that this film came from the same man who directed (the awesome) Boogie Nights, and I mean that as a big compliment. It's just that different — and just that damned good." "This is a dark, compelling and effortlessly engrossing film, one bolstered by a lead performance that ranks among the very best of Mr. Day-Lewis' impressive career."John DeFore in The Hollywood Reporter: "Director Anderson's critics might not know what to do with this picture, which has none of the attention-grabbing flourishes of earlier films — no hailstorms of frogs or deus ex machina pianos here. The closest it gets to self-conscious showiness is its closing scene, a confrontation as memorably strange as the fireworks-popping, Jessie's Girl-belting drug deal in Boogie Nights."Peter Martin at Twitch: "Paul Thomas Anderson has demonstrated tremendous instincts as a filmmaker in his previous four features, but, for me, he's always been more of a promising director with great potential than a master. There Will Be Blood shows that he has absorbed the lessons of those directors that have inspired him-notably Robert Altman-and found something new to say, and a new way to say it. He's built on everything he's done before and surpassed his previous achievements. It's definitely not perfect, but it is sweeping and majestic as it moves down a lonely, powerful path."Matt Dentler of SXSW on IndieWire: "There Will Be Blood is one of the best films of the year. Daniel Day-Lewis is obviously a major component of it, but Anderson's poetic treatment of the material cannot be dismissed. Plus, in a pleasant turn of events, co-star Paul Dano delivers a delicious and demented performance that could earn some serious award consideration a few months from now. God Bless P.T. Anderson, for making his fifth consecutive slam dunk. I'm just so stunned and impressed and shaken by this film.""There are flourishes of Stanley Kubrick, Terrence Malick, and Robert Altman (to whom the film is dedicated) but Anderson steps up his game as a master filmmaker beautifully telling a very scary story."