Friday Box Office: Brave One With $4.8M, $15.1M 3-Day; Eastern Promises And Across The Universe Huge PTA!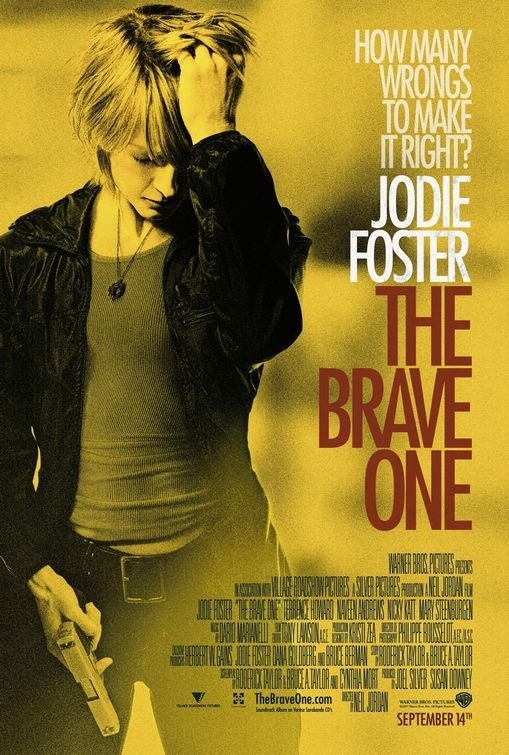 Entering the weekend, Jodie Foster's last 3 films had all debuted with more than $20M on opening weekend. Neil Jordan's The Brave One (Warner Bros) will snap that streak, as the new street vengeance thriller opened to $4.8M Friday. That will translate to an estimated $15.1M weekend, which is well below industry expectations and Warner Bros' hopes.
3:10 to Yuma (Lionsgate) is holding very strongly with a $2.7M Friday, and the James Mangold-directed Western will rustle up a likely $9.3M by Monday morning. The Billy Bob Thornton comedy Mr. Woodcock (New Line) managed just $2.6M for 3rd place on Friday, but it should finish the 3-day with about $7.54M, far behind Yuma.
Superbad (Sony) and the new Freestyle Releasing offering Dragon Wars finished 4-5 Friday, and those positions should hold for the weekend. The Judd Apatow-produced comedy added $1.6M to start the weekend, and it should reach $5.2M for the frame. The South Korean dragon spectacle delivered $1.5M on its opening day, and it's headed for a $4.2M weekend.
3 major Oscar contenders entered limited release today, and the big winners appear to be David Cronenberg's Eastern Promises (Focus Features) and Julie Taymor's Beatles-inspired Across the Universe (Universal) with the dark Iraq War-themed In the Valley of Elah (Warner Independent), a distant 3rd.
Eastern Promises, a thriller written by Oscar nominee Steven Knight (Dirty Pretty Things), opened at 15 locations and has ridden strong reviews to a Friday Per Theatre Average of $10,971 or about $165,000. Meanwhile, the Taymor musical, with decidedly mixed reviews, has started the weekend with a blazing $9,114 PTA at 23 locations before going wide next Friday. The music of the Beatles married to wild visuals has delivered an estimated $210,000 on opening day.
As the weekend progresses, I think that the harder, violent edge of Promises will allow the more crowd-pleasing Universe to close the PTA gap, but my guess is that Cronenberg's thriller, which re-teams him with A History of Violence star Viggo Mortensen, will walk away with the 3-day PTA crown. I'm penciling in $518,000 or so for Eastern Promises for a $34,559 PTA. Across the Universe will likely be a tick lower at approximately $33,200 per from a $765,000 total take.
The Paul Haggis Iraq War drama In the Valley of Elah, with a cast that boasts Oscar winners Tommy Lee Jones, Susan Sarandon and Charlize Theron, had a solid, but unspectacular debut at 9 locations. It grabbed about $40,000 on Friday for a $4,492 PTA. That should translate to a weekend of approximately $130,000 and a 3-day PTA of $14,474.
Among other specialty releases, King of California (First Look), starring Michael Douglas, delivered a $2,250 PTA on 5 screens, Magnolia's Great World of Sound managed a PTA of $1,672 at 2 locations, and Ira & Abby, also from Magnolia, generated $1,542 per on 7 screens, but it should improve through the weekend.
For all the numbers visit Fantasy Moguls.
EXCLUSIVE FANTASY MOGULS EARLY FRIDAY ESTIMATES
1. NEW – The Brave One (Warner Bros) â€" $4.8M – $1,742 PTA – $4.8M cume
2. 3:10 to Yuma (Lionsgate) – $2.7M – $1,012 PTA – $22M cume
3. NEW – Mr. Woodcock (New Line) â€" $2.6M – $1,165 PTA – $2.6M
4. Superbad (Sony) – $1.6M – $550 PTA – $107.7M cume
5. NEW – Dragon Wars (Freestyle Releasing) â€" $1.5M – $659 PTA – $1.5M
EXCLUSIVE FANTASY MOGULS EARLY 3-DAY ESTIMATES
1. NEW – The Brave One (Warner Bros) â€" $15.1M – $5,481 PTA – $15.1M
2. 3:10 to Yuma (Lionsgate) – $9.3M – $3,487 PTA – $28.6M cume
3. NEW – Mr. Woodcock (New Line) â€" $7.54M – $3,380 PTA – $7.54M
4. Superbad (Sony) – $5.2M – $1,787 PTA – $111.3M cume
5. NEW – Dragon Wars (Freestyle Releasing) â€" $4.2M – $1,846 PTA – $4.2M cume
EXCLUSIVE FANTASY MOGULS EARLY FRIDAY PTA ESTIMATES
1. NEW – Eastern Promises (Focus Features) â€" 15 locations – $10,971 PTA
2. NEW – Across the Universe (Sony) â€" 23 locations – $9,114 PTA
3. NEW – In the Valley of Elah (Warner Independent) â€" 9 locations – $4,492
PTA
4. NEW – King of California (First Look) â€" 5 locations – $2,250 PTA
5. NEW – The Brave One (Warner Bros) â€" 2,755 locations – $1,742 PTA
EXCLUSIVE FANTASY MOGULS EARLY 3-DAY PTA ESTIMATES
1. NEW – Eastern Promises (Focus Features) â€" 15 locations – $34,559 PTA
2. NEW – Across the Universe (Sony) â€" 23 locations – $33,266 PTA
3. NEW – In the Valley of Elah (Warner Independent) â€" 9 locations – $14,374
PTA
4. NEW – King of California (First Look) â€" 5 locations – $7,875 PTA
5. NEW – The Brave One (Warner Bros) â€" 2,755 locations – $5,481 PTA