TIFF Movie Review: Ping Pong Playa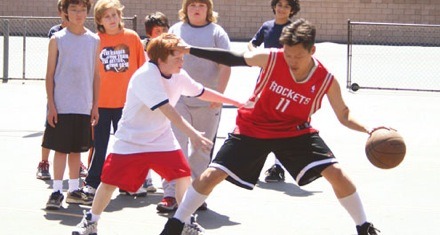 I never planned on seeing Ping Pong Playa, but it became one of those films that I heard people talking about in between sleeping, screening and eating. I think Jen from Rotten Tomatoes was the first one to mention it to me. Not that she had seen it, just that she had heard good things. So in between two screenings last night I was able to jet over and catch a viewing of Jessica Yu's ping pong sports comedy. The only way to describe Ping Pong Playa is to play the Hollywood executive game: "It's Karate Kid meets Bad News Bears but with Ping Pong" And even then, you have no idea what the film is about.
It's a lower budget fictional indie film (yes, Jessica Yu has made her transition from documentaries to fictional cinema) about Christopher "C-dub" Wang (Jimmy Tsai) a young man full of excuses and failed basketball dreams. He lives at home with his highly accomplished older brother, a ping pong champion, his mother who teaches ping pong lessons, and a father who operates a ping pong shop. Everything is connected. The neighborhood children are sent to lessons because of the champion brother, and the ping pong shop earns based on local sales. So when C-dub's brother and mother are injured in a car accident, Chris must step up and teach ping pong while he gets up the nerve to compete for the coveted Golden C**k in the California ping pong championships.
Cute is the first word to come to mind, but it's more than that. A chuckle-fest with a unique sense of humor not found in Hollywood films. I wish there were more filmmakers making movies with Asian American culture and actors in this country. I thought that Justin Lin, who was responsible for Better Luck Tomorrow, would be the one to take the asian american film to the mainstream. But instead he has chosen instead for a paycheck (Fast and the Furious Tokyo Drift?) over art. I now hope that Jessica Yu  might be the person to take on this role in American cinema. With the right budget, I have no doubt that she will be able to make an incredible film. I don't know how much money was invested in Ping Pong Playa, but it doesn't seem like much, and just look at the results.
/Film Rating: 7 out of 10