No Plans For Simpsons Movie Sequel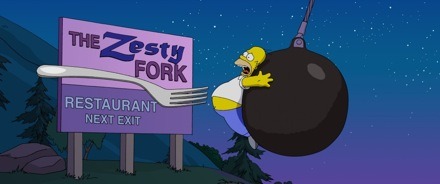 The Simpsons Movie is the sixth biggest movie of 2007, beating such contenders as 300, Ratatouille, Live Free or Die Hard and Fantastic Four: Rise of the Silver Surfer. It's easily the biggest tv-to-film adaptation of all time. The film will likely end its run with $500 million worldwide, not bad for a $75 million animated flick.
Talk of a Simpsons sequel began before the credits ended, and will continue on screen in the September 23rd 19th season premiere with Bart Simpson writing "I will not wait 20 years to make another movie" on a blackboard. However, Simpsons executive producer Al Jean says there are no current plans for a sequel.
"We would only do a sequel if we believed it was a movie that had to be made, just like we did with the first one," Jean told the New York Post. "We wouldn't want to do it just because the first one was successful, or because we wanted to make money off of a movie. We'd only do it if we had a script that we thought was great [and] there's no script at this point."
I'm sure they can fin d a script when Fox offers to double everyone's salary for a sequel.