Strangest Promotion Ever: Transformers Beach Ball With Clueless DVD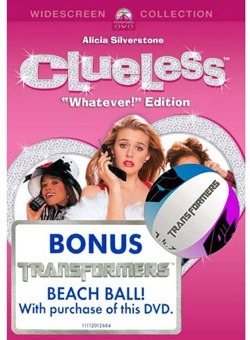 Apparently if you buy the Clueless "Whatever!" Edition at Walmart, you'll get a colorful blue, white and purple Transformers beach ball. This has to be the weirdest DVD freebie promotion I've ever seen. How much of a crossover audience do you think there is between Clueless and Transformers?
May-be the marketing team figures that a young party audience might buy this DVD and the inflatable beach ball will sneakily become free movie promotion at the next pool party? Is there anyone from Paramount marketing available to explain?
via: Gizmodo