JLA Casting Begins Next Week, Batman And Superman To Be Recast?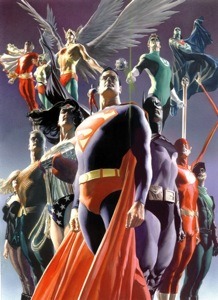 Just when I think I've convinced myself that the Justice League of America movie isn't coming anytime soon, another contradicting news report is posted which makes me reconsider my position.
Yesterday, Christian Bale told IESB that not only has he not been contacted about the JLA movie, but he is not involved what-so-ever. This lead me to speculate that a Batman-less JLA movie was probably not probable. Could all these JLA movie rumors just be rumors after all?
Today Clint from Moviehole is reporting that casting for the film begins next week. That's right – NEXT WEEK. Christian Bale and Brandon Routh will not be featured in this project, and the current plan is to recast the parts of Batman and Superman for the superhero team-up film. This makes a little more sense, and seems so much more probable than Bryan Singer pushing back The Man of Steel, and Christopher Nolan giving up Bale's option for a third Batman film. And with new faces in the roles, this movie can stand alone apart from the single hero franchise films. This also means that if, for some reason, JLA fails, the stigma will be kept seperate from the stand-alone franchise films.