Contest: Bloodlines On DVD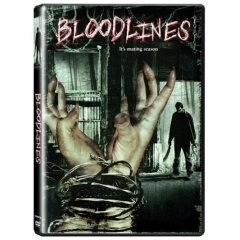 Bloodlines hit DVD store shelves on July 31st, and we have a copy for one lucky /Film reader. All you need to enter is to e-mail us with the reason why you should win. On August 8th we will e-mail the winner with the best answer. More information on the release can be found after the jump.
The blood flows as women are turned against each other for sport, in a deadly competition to carry on a family name when Bloodlines is released on DVD July 31, 2007 from THINKFilm.  Heart-pumping, unrelenting action and suspense marks Stephen Durham's directorial debut in this not-to-be-missed gore-fest starring Grace Johnston (Beaches), Tracy Kay (Not Another Teen Movie) and Jason Padgett ("The Closer," "24").
"Bloodlines is an intense thrill-ride that will keep horror fans waiting with baited breath until the very end," says Marc Hirshberg, COO of THINKFilm.  "The filmmakers are obviously fans of the genre themselves and have made this a film worthwhile of any horror fan's collection."
Deep in the backwoods of the South, a young woman awakens to find herself bound and chained; held hostage by a deranged family.  Forced to face other victims in a fight to the death, she doesn't know that the survivor has the grimmest fate of all.
DVD extra features include:
- Interviews with the Cast of Bloodlines
- Filmmaker Commentary
- Bloodlines Trailer
- Trailer Gallery