Contest: Transformers Armada Best Battles On DVD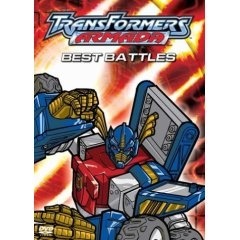 We have a copy of Transformers Armada Best Battles on DVD for one lucky /Film reader. All you need to enter is to e-mail us with the reason why you should win. On July 18th we will e-mail the winner with the best answer. More information on the release can be found after the jump.
In celebration of the blockbuster film Transformers, Rhino Entertainment would like to remind you of their large catalog of Transformers Armada and Beast Wars Transformers DVD titles, culled from the extremely popular animated television programs of the same name. In these series, the battle between Autobots and Decepticons continues into the new millennium.
The Autobots and the Decepticons are going at it again, but this time the two factions are fighting over little transformers called the Mini-Cons. These Transformers gives there masters a massive power boost either to defend or destroy. And, again this battle is on Earth.