Contest: After The Wedding On DVD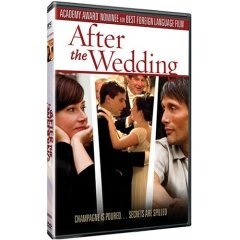 After The Wedding hit DVD store shelves on July 10th, and we have a copy for one lucky /Film readers. All you need to enter is to e-mail us with the reason why you should win. On July 17th we will e-mail the winner with the best answer. More information on the release can be found after the jump.
From acclaimed director Susanne Bier (upcoming film, Things We Lost in the Fire), After the Wedding garnered immense attention at film festivals worldwide, including a coveted Oscar® nomination at this years Awards Show.  The talented cast and film was recognized with a win for "Best Supporting Actress" (Christensen) and a nomination for "Best Actor" (Lassgard), "Best Actress" (Knudsen) and "Best Film" at the Bodil Awards (2007).  In addition, the film was nominated for "Best Actor" (Mikkelsen) and "Best Director" at the European Awards (2006), among many other wins and nominations.  Bier co-wrote the harrowing emotional melodrama with veteran writer Anders Thomas Jensen (Brothers, Open Hearts).
Far from home, Jacob (Mikkelsen), runs a struggling orphanage in one India's poorest regions. Desperate to save the orphanage from closure, he returns to Denmark to meet Jorgen (Lassgard) a wealthy businessman and potential benefactor.  What appears to be nothing more than a friendly gesture to attend a wedding sets in motion an increasingly devastating series of surprises, revelations, and confessions that will forever change their lives.