Movie Review: Hairspray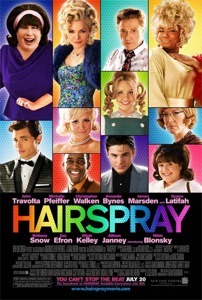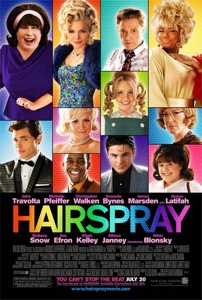 Hairspray is a balls to the wall musical. It's not a performance after performance show like Dreamgirls. It doesn't take itself too serious, even though it sometimes deals with some serious issues of racism/segragation. Usually I'm against remakes, but this is a perfect example of how to do it right. Adam Shankman has created a very different version of this movie. It's more colorful, more fun, more accessible, more cinematic, better choreographed, and more star studded than John Water's original. It's not the same movie, nor does it want to be.
I must admit, I hadn't watched the John Waters classic until earlier this Summer. I was lucky enough to catch a screening at Delores Park in San Francisco as part of their movies in the park series. For those who have never gone, it's a great experience. Imagine hundreds of excited movie-goers on picnic blankets watching a huge blow up screen with the San Francisco skyline in the background. It's beautiful. And it's also one of those crowds that makes the movie better than it could be. Sometimes they sang along to the music, sometimes the clapped or cheered. But even though I saw the film under these great circumstances, I walked away somewhat disappointed. Don't get me wrong, it's a good film, with the signature John Waters feel, but the film is definitely dated, and it shows.
Months earlier I was invited to Dolby Labs to screen 20 minutes from the new film. The footage I saw that night impressed me greatly. And I think I entered into the John Waters showing expecting Shankman's film. That's not to say that Shankman's film doesn't have it's problems, or should I say PROBLEM: John Travolta.
Travolta ruins almost any scene or sequence he's involved with. It's rather funny because it seems like Travolta in drag is one of the main selling points for the movie for most people. But truth is, he is undeniably the only bad part of the film. All the performers/actors/actresses are perfect. Newcomer Nikki Blonsky is the shining star of this film. It will be interesting to see where she will go from here.
/Film Rating: 7.5 out of 10