Steven Spielberg And Peter Jackson To Direct Tintin Trilogy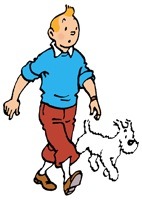 We don't really want to report this, but because of the huge names involved, we have to. Steven Spielberg and Peter Jackson have teamed up to direct and produce three back to back feature films based on Georges Remi's Belgian comic-strip Tintin for DreamWorks. But Why? It's a passion project. Speilberg has been trying to get the film rights to the series for more than 25 years.
The Adventures of Tintin is a 70 years series of Belgian comic books originally created by Belgian artist Hergé, the pen name of Georges Remi. The series follows Tintin, a young Belgian reporter and traveller who is aided in his adventures by his faithful dog Snowy. There have been both live-action and animated film adaptations of The Adventures of Tintin.
According to the story, the two filmmakers will each direct at least one of the films, which will be created in digital 3D using performance capture technology. Jackson's New Zealand-based WETA Digital produced a 20-minute test reel.
"Herge's characters have been reborn as living beings, expressing emotion and a soul which goes far beyond anything we've seen to date with computer animated characters," Spielberg said. "We want Tintin's adventures to have the reality of a live-action film, and yet Peter and I felt that shooting them in a traditional live-action format would simply not honor the distinctive look of the characters and world that Herge created."
I'm still not quite sure what Spielberg sees in the series (although I must admit, I've only seen a few strips. The director has said that the series somewhat inspired the Indiana Jones films. And with 23 volumes of stories, I'm sure there must be at least three great stories to tell.