Spider-Man 3 To Break Records, Then FAIL MISERABLY?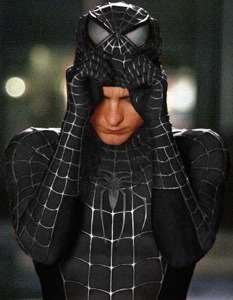 Spider-Man 3 hits theaters this Friday Thursday night. Sony has super-booked many theaters with 12:01 midnight screenings of the film (which will count to the Friday and weekend numbers). And we're not talking one or two theaters, we're talking 6 to 9 in some bigger market multiplexes. The studio is trying to stack the deck to ensure a $100-plus opening weekend. The first film took in $114 million, and Spider-Man 2 made $88 million on the first weekend. Industry analysts predict that Spider-Man 3 will top $100 million, but will not exceed Spider-Man 1's numbers.
The film will be released in 4253 locations, including 53 IMAX locations. This is the widest movie opening of all time, at least for a couple weeks until Shrek the Third likely takes the title.
The Asian grosses for Spider-Man 3 are bigger than both of the previous films. The latest movie earned ¥415 million ($3.47 million) in Japan in one day, beating Spider-Man 2's $3.43 million and Spider-Man's $2.9 million. The film also took in 3.2 billion won in Korea ($3.46 million), and $HK7.5 million in Hong Kong ($958,984), beating the previous record holder Kung Fu Hustle.
One thing is for sure, Spider-Man 3 might be the most expensive film of all time. Some estimates go as high as $500 million after press, prints and advertising. A distribution executive at a studio thinks that Spidey might open to a huge $120 million opening (as it is an event film). But will the movie have legs? With so many huge blockbuster movies/sequels/threequels opening this Summer, some are bound to fail.
"Shrek and Pirates have broad, broad appeal," this executive says. "With Spider-Man, the word is out that it's dark.
I'm not sure that he doesn't have a point.
On a side note: Chris Thilk at Movie Marketing Madness has an incredible in-depth look at Sony's marketing of the film. You have to check this out, it's Chris' most in depth article to date. It's like 10 pages long, and well worth the read.