Movie Review: Half Moon
The following movie was reviewed at the 2007 Tribeca Film Festival: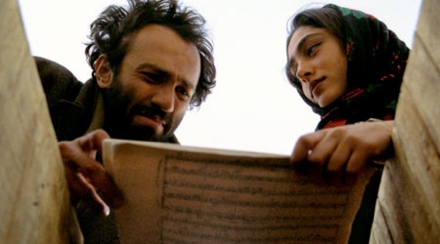 Half Moon (Niwemang)
World Narrative Competition
2006, Iran, Iraq, Austria, France
Bahman Ghobadi
Celebrated filmmaker, Bahman Ghobadi, returns with this meditative portrayal on life after the Saddam Hussein regime in Kurdistan, and how the characters in his film deal with the restraints still placed upon them today. The first Kurdish director in the history of Iranian cinema, Ghobadi has come to prominence and is recognized as one of the leading figures in the New Iranian cinema. With films such as A Time for Drunken Horses (2000) and Turtles Can Fly (2004), Ghobadi has achieved a careful and loving examination of his own people and their daily lives. These stories are not overt political statements; they present small groups of characters coping with an ever-changing modern Iran and Iraq.
In Half Moon, he tells the story of Mamo, a reknown Kurdish folk musician who, after years and years of trying, has finally obtained permission to cross the Iranian border and perform in Iraqi Kurdistan. Herein begins his journey, along with his twelve sons and their bumbling bus driver Kako, of getting across Iran and into Iraq. With a stark landscape acting as the backdrop and a muted cinematography, Ghobadi gently weaves this melancholic tale, as Mamo slowly comes to terms with all that he has lost.
The one element Mamo desperately needs for this performance, despite the warnings of his sons, is the celestial voice of a female. Since the 1979 Iranian Revolution, all females have been prohibited from singing in public, so Mamo must find his muse, Hesho, in a mountain retreat where a whole community of exiled female singers live. Transporting her from Iran to Iraq is a serious felony, which could ultimately lead to the end of Mamo's quest. However, with all the elements in place, Mamo is ready.
Many other difficulties arise upon the trail, such as visits with prophets, disappearances of sons, and random police checks that end in tragedy. And for me, as a Westerner, it is here that my only disappointments with the film come up. I felt that despite the delicate storytelling and lively characters, the film progressed in a very predictable manner. It felt as though I was watching a film where all of a sudden, a character was going to shout out, "We got to get together and do it for the band!" Not to undermine the significance of Mamo's journey, or the struggles of the Kurdish people and what they have gone through in order to be where they are today, but at times, the film almost felt like "The Blues Brothers" stuck in the dessert. With a very "out of the fire into the frying pan" feel to it, Mamo and his band of loyal sons just can't get a break throughout, and its this aspect that made the film drag on a bit and make it seem almost plastic at times.
All in all though, a fine piece of filmmaking from a director whose own voice gets stronger and stronger with every new project realized. Worth watching and experiencing.
/Film Rating: 8.5 out of 10