Contest: Off The Black On DVD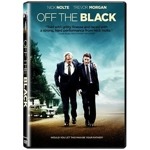 Off The Black hit DVD store shelves on April 17th, and we have a copy for one lucky /Film reader. All you need to enter is to e-mail us with the reason why you should win. On April 23rd we will e-mail the winner with the best answer. More information on the release can be found after the jump.
Written and directed by James Ponsoldt (Junebug and Hurricane, Coming Down the Mountain), the film screened at the 2006 Cannes Film Festival and the 2006 Sundance Film Festival before being released theatrically. A story about understanding and family, Off the Black features an outstanding supporting cast, including Oscar®-winner Timothy Hutton (Secret Window, Kinsey, Beautiful Girls), Oscar®-nominee Sally Kirkland (Bruce Almighty, Wish You Were Dead, Edtv) and Trevor Morgan (The Patriot, The Sixth Sense, Mean Creek, The Glass House).
"This is an emotionally gripping film that challenges conventional notions about life, family and growing old," said Jeff Sackman, President of THINKFilm. "With amazing performances from a strong cast, Off the Black showcases Nick Nolte's talent for portraying intricate characters."
Nolte stars as Ray Cooke, a disheveled, grumpy high school umpire who forms an unlikely friendship with a troubled teenager, Dave Tibbel (Morgan). As the two men grow more dependent on each other, Ray asks Dave to go to his 40th high school reunion and pretend to be his son, a benevolent act of deception that winds up opening unexpected dimensions in the two men.