Pirates Of The Caribbean: At World's End Is Almost 3 Hours Long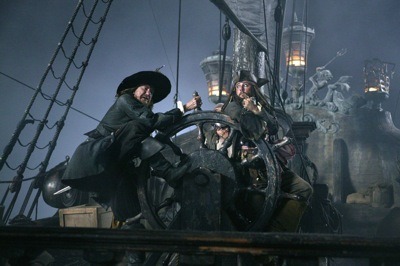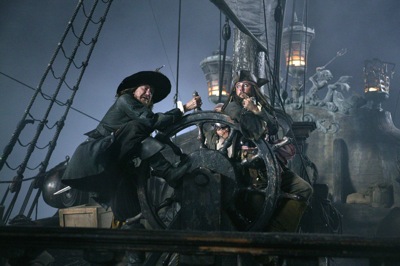 The final running time for Disney's Pirates of the Caribbean: At World's End comes in at whopping 170 minutes, according to FilmJerk. That's almost three hours long. A whole thirty minutes longer than The Curse of the Black Pearl, and twenty minutes longer than Dead Man's Chest. CHUD claims that an 2005 early draft of the script was only 99 pages in length. What happened? I'm guessing it has something to do with going into production on a movie before you have a final script.
Don't get me wrong, I'm all for a great lengthy film. I loved Grindhouse (me and some other guy were the only people to buy tickets apparently). I love the Harry Potter films. I even enjoyed Lord of the Rings and Titanic. But when Hollywood makes a bad lengthy movie, it can be insufferable. What worries me about At World's End is, well, Dead Man's Chest. It was long and boring. So when I think "Pirates" and "Long," the resulting first thought is "Oh No." But let's give the film the benefit of the doubt. Heck, the theatrical trailer was very cool indeed.
FilmJerk also reports that the film will rollout on 4150+ screens on May 25. My first thought was that World's End might be the largest movie release EVER. But after quickly consulting my book of stats, I found that Spider-Man 3 will also be released on 4,150+ screens, in addition to 53 IMAX theaters, making it the largest release (at least that I can find).