Scott Derrickson To Remake The Day The Earth Stood Still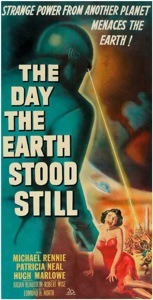 The Exorcism of Emily Rose director Scott Derrickson has been hired to helm The Day the Earth Stood Still remake at Fox.
Our friends at FirstShowing report that Derrickson is currently prepping one of the longest shoots in Canadian history. The Vancouver shoot will run all the way to November. All of this according to the Hollywood North Report and IESB.
The original 1951 science fiction movie tells the story of a humanoid alien who comes to Earth to warn its leaders not to take their conflicts into space, or they will face lethal consequences. The movie was produced in the aftermath of WWII, the start of the Cold War, the development of the Atomic bomb and Hydrogen bomb, and the beginning of the Space age. While the originally reflected the cultural fears of the time, I'm sure the new film will reflect our terror fears.
The Day the Earth Stood Still is currently set for a May 9th 2009 release date.