Indiana Jones 4 Movie Trailer Due Thanksgiving 2007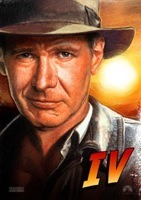 George Lucas says Harrison Ford will play his age in the upcoming Indiana Jones 4:
"He's not running in any of the movies," Lucas told USA Today. "He's either on a horse or driving a car or a motorcycle. And he'll play his age in this movie with what's appropriate. The chases are more suspenseful than speedy. Like the rolling ball in the first film – it's not that he's running that fast, it's that there's a giant ball coming at him. And he will get beat up, which is a tradition for us."
Lucas plans on having the first trailer in theaters for Thanksgiving. But we wonder what movie the trailer could possibly be attached to? Disney's modern day princess story Enchanted? The Weinstein Co's Stephen King adaptation The Mist? Neither sound likely. I bet the trailer will hit theaters one week earlier attached to Robert Zemeckis' Beowulf. And isn't that a Paramount Picture?
The filmmaker hopes to keep the movie's official title under wraps until then. He also was very tight lipped about the filming locations, but teased that one will include a waterfall.
On the possibility of Indy's father, Sean Connery, returning for another round, george says, "We're still trying."
On the casting of Cate Blanchett:
"That's who my director wanted, and I always bow to the wishes of my director," Lucas said. "I approved it because she seemed like a good idea. When I met her at the Academy Awards, I told her, 'Hey, you work for me now!'"
Indiana Jones 4 Poster by Paul Shipper.