Contest: The Lost Room On DVD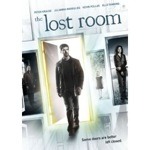 The Lost Room will hit DVD store shelves on April 3rd, and we have a copy for one lucky /Film reader. All you need to enter is to e-mail us with the reason why you should win. On April 7th we will e-mail the winner with the best answer. More information on the release can be found after the jump.
The Lost Room, a thrilling mini-series event that previously aired on the Sci-Fi Channel on December 11, 2006, features an all-star cast including Peter Krause, Julianna Margulies, Margaret Cho, Roger Bart and Kevin Pollak. The story follows a detective as he investigates a mysterious motel room, which acts as a portal to an alternate universe. In the 1960s, an unknown event at the Sunshine Motel caused ordinary things in Room 10 to transform into items of wonder. The room and its contents gained unique and inexplicable properties, transforming them from mundane things into indestructible objects with extraordinary powers. These objects are sought after by anyone who knows their secrets.
DVD SPECIAL FEATURES: "Inside The Lost Room" featuretteCAST
Peter Krause HBO's "Six Feet Under," TV's "Sports Night," We Don't Live Here Anymore
Julianna Margulies TV's "ER," HBO's "The Sopranos," Snakes on a Plane
Dennis Christopher HBO's "Deadwood," Nine Lives, Breaking Away
Christopher Bauer Flags of Our Fathers, HBO's "The Wire," Broken Flowers
Elle Fanning Déjà Vu, Because of Winn-Dixie, Babel, The Door in the Floor
Ewen Bremner HBO's Elizabeth I, Match Point, The Rundown
Margaret Cho Notorious C.H.O., I'm the One that I Want
Roger Bart TV's "Desperate Housewives," The Stepford Wives, The Producers
Kevin Pollak The Usual Suspects, Hostage, The Whole Ten Yards