Interview With Grindhouse Directors Quentin Tarantino And Robert Rodriguez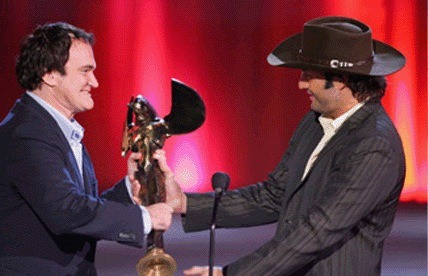 On March 25th, we had the opportunity to talk with most of the stars and directors of Grindhouse. We will be posting the interviews leading up until the film's release on April 6th 2007.
We sat down with Quentin Tarantino (Pulp Fiction, Kill Bill) and Robert Rodriguez (Sin City, From Dusk Till Dawn) to talk about their upcoming double feature.
QUESTION: HOW ARE YOU HOLDING UP DURING THIS PRESS JUNKET?TARANTINO: Normally you are past dead at the end of the day and 'Okay, that is it!' and I thought really? I wish Robert co-directed every movie I ever done just so I could have him at all future junkets.RODRIGUEZ: [Laughs] I did a few shots.QUESTION: HOW WAS IT HAVING HIM IN YOUR MOVIE?RODRIGUEZ: It was amazing. I had written that part, I was trying to find and actor play it. I just had the actors reading off the script out loud and we were just going to hear it out loud. So I played a few parts and I asked Quentin to play some parts just so we could hear it. As soon as his part came up and he started reading it, all the actors thought the same: he's got to play it. He was really awesome.QUESTION: SO WHAT IS THE DIFFERENCE TO BE A BAD GUY FROM A GRIND HOUSE FILM?TARANTINO: I would say that back then in the grind house days, especially as opposed to say the action movies coming out of Hollywood regular, there is a more demented sick quality to the people that wear the black hats in a grind house movie. Anything is possible and they are capable of truly anything. When you get into more Hollywood movies there is always a point past which they won't cross. Grind house movies they were always all bets off. The more foreign version of those, the Italian and Spanish movies, forget about it!RODRIGUEZ: I've known Quentin now for like 14 years. So when I saw in playing this character, I was like "Who are you?" What's that weird grimace you keep doing? He said, it's just a character." I thought it was fantastic. He's a crazy-ass villain.QUESTION: DID I SEE A CAMEO FROM YOU IN THE MOVIE?RODRIGUEZ: No. I was too busy operating the camera.
QUESTION: WHO INTRODUCED YOU GUYS OR DID YOU JUST MEET AT A PARTY?RODRIGUEZ: No at a film festival.TARANTINO: We met at the Toronto (Int'l) Film Festival.RODRIGUEZ: Yeah, I had "El Mariachi" and he had 'Reservoir Dogs' that year and we kept bumping into each other at the same festivals.TARANTINO: We really met because you know you go to festivals, and the press room's over here, and the badge room's over there so we were being yanked by handlers. We had actually never done this before so we were all big wide eyes looking and looking at everything. 'Hey, we're filmmakers! Woo!' (He laughs maniacally.)RODRIGUEZ: That was the biggest perk. When you are growing up you feel like you are the only person who likes to do the things that you do and then at the film festival you meet a bunch of other people who are likeminded. Especially him, if we had been in school together we would have been best friends.TARANTINO: Yeah, I wish I knew a guy in elementary school like Robert.RODRIGUEZ: You know you find somebody and then you say 'I guess that's it. I won't see you until the next film festival.' Then I went back to Columbia Pictures to go write 'Desperado' and he had an office two doors down from me. He was writing "Pulp Fiction," right (to Tarantino) so we hung out for a long time.TARANTINO: Yeah, many a dinner at Versailles (the Cuban restaurant in LA), which is right across the street.RODRIGUEZ: A lot of times you meet another filmmaker like that at the festival but then you never see them again. Or you don't see them for 15 years. Then I cast him in 'Desperado.' Because we enjoyed working with each other, we then did 'Four Rooms' and 'From Dusk Till Dawn' and (can't hear)TARANTINO: Then I started coming up to Austin a lot and it became like a second home, and so yeah.RODRIGUEZ: So this is our sixth collaboration.QUESTION: ROBERT, I INTERVIEWED DANNY TREJO AND HE SAID THAT 'MACHETE' WAS GOING TO BE MADE INTO A FEATURE FILM. IS THAT A THEATRICAL RELEASE?
RODRIGUEZ: We'll see. I mean I am just going to go shoot it and then we'll decide what we're going to do with it.QUESTION: WHEN DID YOU MAKE THAT DECISION?RODRIGUEZ: Way back before. I'd been writing this since like 1994. So when I started doing the trailer and showing it to people they said we want to see this movie. Bob Weinstein even said that 'I want to see that movie.' So we're probably going to make it then. If audiences respond to it the way I think they might then we'll probably make it.TARANTINO: Robert pretty much has about 40 minutes of it anyway just doing the trailer. In true grind house fashion, I'll give him six more days to finish it.QUESTION: HOW DOES THIS FIT WITH 'SIN CITY 2'?RODRIGUEZ: It would be done at the same time. It would have to come out when 'Grindhouse' comes out on DVD. It would have to be out by then.QUESTION: IS IT A REFERENCE TO A 'SPY KIDS' CHARACTER?RODRIGUEZ: No I'd come up with the Machete character before that, like in 1994. And I thought I would never get a chance to make that movie so I named him Machete in 'Spy Kids' just to get it, so it was actually the other way.TARANTINO: One of the things I love about it is, there was blacksploitation but in America there wasn't a Mex-sploitation. 'Machete' is definitely a Mex-sploitation film. (He laughs again maniacally.)RODRIGUEZ: When I met (Danny Trejo) in '94 I thought he should be like Charles Bronson or Jean-Claude Van Damme and make a movie every year. He should be making his own Mex-sploitation movies so I came up with this character 'Machete' for him.TARANTINO: There is a scene in the trailer where he is with the daughter and the wife of the big businessman bad guy. Robert goes over and asks, 'Danny, is this your first sex scene?' and he goes (in an deep Trejo accented voice) 'Well, yes it is. The closest I came is I almost raped Rachel Ticotin in 'Con Air'. (He laughs yet again.) That is the closest to a love scene I have ever had. (Pause) I'm loving it, yeah.'
QUESTION: YOU HAVE ALWAYS HAD SUCH GREAT TASTE IN THE ACTORS YOU CAST IN YOUR FILMS. I KNOW THAT UMA THURMAN WAS YOUR MUSE FOR KILL BILL. WERE YOU GOING TO PUT HER IN THIS OR ARE YOU IN TOUCH WITH HER AT ALL?TARANTINO: Oh, she is one of my most cherished human beings. I will know her for the rest of my life. This wasn't like one where, it's nice to have a little break from each other. We worked so hard on "Kill Bill," it was nice to have a little break from each other so we could keep it special. But nothing seemed appropriate for her. If she was one of the girls it might throw it all off.QUESTION: HAVE YOU TALKED TO HER RECENTLY? HOW IS SHE DOING?
TARANTINO: She is doing great. Actually, I gave her the script to read. She called me before the car crash happened because she could kind of realize what was going to happen. She calls me and goes 'Quentin, I think this is maybe one of the best films you have ever written. I am falling in love with these girls, I love this dialogue, and I am calling you now before you kill them because I know I am going to be really mad at you and my opinion will be vastly different but right now I am letting you know I think it is one of the best things you have ever done.'
QUESTION: YOU GAVE IT TO HER JUST TO READ?
TARANTINO: Yeah, just to read.
QUESTION: HOW IS 'INGLORIOUS BASTARDS' COMING?
TARANTINO: That will probably be the very next thing I do. Robert will probably be doing 'Sin City 2' coming up fairly shortly. I am going to kind of go on the road with this, around the earth here. I haven't really done it in a big way in a long time where you spend six months doing it. But I also like writing on the road, it's a really good time to do that so I will probably finish up 'Inglorious Bastards' while I am promoting 'Grindhouse'.
QUESTION: WAS SPLITTING UP THE FILMS WEINSTEIN'S IDEA TO HAVE IT OVERSEAS AND THEN TO HAVE IT AS ONE THING HERE? AND THE MISSING SCENES THAT WE ARE NOT SEEING HERE WHERE ARE WE GOING TO SEE THEM?
TARANTINO: The thing about it is that in particular it was the different foreign distributors. It was their idea especially if they were dealing with non-English language countries. They don't really have this tradition. Not only do they not really know what a grind house is they don't even have the double feature tradition. So you are kind of trying to teach us something else. That was one. And two was screw this double-feature stuff, we want a Robert movie and we want a Quentin movie. But we actually have no worries about that because we cut our movies to the bone in order so they would work for 'Grindhouse' so the real reality is Robert did 'Planet Terror' and I did 'Death Proof' and then we did 'Grindhouse' and those are three different movies. Part of the reason we were kind of able to just go for it and try to cut it to almost short of incomprehensibility was because we always knew that the full versions of the movies would go out, and eventually be on DVD out here and half the world would see that version of it. I am actually excited about both.
QUESTION: SO HOW MUCH MORE CAN WE EXPECT ON A DVD HERE?
TARANTINO: I haven't really done mine 100 percent but I think mine actually might be like half hour longer.
RODRIGUEZ: Mine is about 15 almost 20 minutes longer.
QUESTION: 'Machete' will that be part of another double feature? Another 'Grindhouse?'
RODRIGUEZ: It could. We might pair that with "Three Kicks in the Head, Part III," hear) (Quentin laughs.) It's something we have always wanted to do and referred to in his movies. Richie Chan (sp?) is Back!
QUESTION: TODAY'S KIDS IN HOLLYWOOD SEEM TO HAVE COMMON DRUG USE. DO YOU HAVE ANY THOUGHTS ON THAT LIKE ALL THE REHAB NOW ANY ADVICE TO THEM?
TARANTINO: I don't know. I actually think it is probably more blown out of proportion that it is. You put up a picture of Lindsay Lohan walking out of club on 'People' magazine and put some prohibitive headline on it and people buy the magazine. I really think it is a product of the celebrity culture journalism ad nauseum thing going on. Jeez! If you are lucky enough to be making movies and do well and be successful in your 20's, go to the club have a good time. [Laughs] You know what I mean?
QUESTION: BUT BRITNEY SPEARS ENDED UP IN REHAB.
TARANTINO: Well you know, good for her. You know, she had a problem; she's dealing with it. Half the time people do this rehab thing, it's reported completely wrong why they're doing it. She had a problem; she's dealing with it. Half the time when people do these rehab things, it's completely reported wrong. I mean that whole sex addiction thing with Michael Douglas apparently was a complete hoax. He went in there to stop smoking or something like that, but who cares about that. That's boring. Let's say it's sex addiction. Now his life gets ruined for a year because of it. I don't really pay attention to that stuff that much.
QUESTION: WE HEARD THAT YOU HAD PEOPLE OVER AND YOU WERE SHOWING THEM SOME GRIND HOUSE FILMS AND YOU HAD MARLEY [SHELTON] AND SOME WHO WEREN'T FAMILIAR WITH SOME OF THE FILMS. IS THIS ALL JUST PART OF YOUR OWN COLLECTION? HOW MANY OF THESE FILMS WOULD YOU SAY YOU HAVE?
TARANTINO: I have a huge collection of film, both 16 and 35 and even the trailers.
RODRIGUEZ: (To Tarantino) The Grind house screenings are going on down at the New Beverly, are those all your prints?
TARANTINO: Those are all my prints.
RODRIGUEZ: That gives you an example.
TARANTINO: Actually, I don't know how many prints I have because I am afraid to actually count them I am afraid to put my obsession under a microscope that minutely. The way this has got to work is we were talking to people and 'Wow, this is just reminding me of what it was like to go to the drive in and see this that and the other.' Even the guy from the MPAA said that, it was really cool. Having said that though, if it only works as a nostalgic blast or if you have to know everything about this, then we didn't do a very good job. Conceivably the people who probably will enjoy it the most are younger people who have never had this experience before and they watch it and it's all new to them. It makes us look even more original than we really are.
QUESTION: HOW WAS THE PROCESS OF GETTING EVERY 35MM FILM? WHERE DO YOU GO TO BUY THEM?
TARANTINO: There is a network out there where collectors sell to other collectors. Guys have 10 prints for sale and they offer them up. It's like comic books.
QUESTION: HOW DO YOU CATALOGUE THEM? ALPHABETIZED?
TARANTINO: Yeah, pretty much. In the case of my 16mm prints, I built a vault in my house. It has the right condition temperature-wise and everything. Those are just alphabetized. My 35mm's I keep in a vault outside another vault with my house. I also will leave some in my garage all the time that I think I might want to play recently because garages are actually good places to put prints. Whenever some lost print that no one thought there was anything left they find it, it is in somebody's garage. If anyone ever finds those Josef von Sternberg lost reels of "Greed" (??) it will be in somebody's garage.
QUESTION: WE HEARD THAT ROBERT ALMOST TALKED YOU INTO DIGITAL VIDEO BUT AT THE LAST MINUTE YOU WERE LIKE NO, I GOTTA SHOOT ON FILM?
RODRIGUEZ: I was going to D.P. his for him and if I was going to do that I was going to shoot film, and I was going to make it look just like film. But when I realized that if I shot his movie, it would start looking too much like one of mine and he's wanted to be his own D.P. for a while. I couldn't just give him the digital cameras; he's used to film. So I said it would be better if you shoot yours on film and I'll shoot mine on digital, and I'll somehow make mine look more like a ripped up film with these tricks.
TARANTINO: In almost every category of the two films working together, we didn't want any sameness going on. If mine had been distressed in the exact same way that Robert's had been distressed it would look like we just pushed a button. They had to exist in a different kind of way, tone, pacing everything had to be different enough.
QUESTION: CAN YOU TALK ABOUT CASTING BOTH OF YOU? YOU HAVE INCREDIBLY GIFTED PEOPLE, PEOPLE YOU HAVE WORKED WITH BEFORE, NEW PEOPLE YOU HAVE WORKED WITH.RODRIGUEZ: People I have always wanted to work with. I had such a huge cast I had to stop writing at a certain point. About half way through I just went I am going to start casting now. I have to start putting faces to these characters and I can finish writing the script better to these characters. A lot of the parts are written for those actors. I wrote for Michael Biehn, for Jeff Fahey, for Freddy Rodriguez, for Rose [McGowan] most of that was based on her. Marley [Shelton]. I had already cast them before I finished writing the script. Naveen Andrews I wrote based on his first reading of one scene I had of him, he read it so great. I wrote the rest of his part based on that reading.
TARANTINO: It was almost the opposite for me. I wrote obviously Zoe for Zoe [Bell] but after that I wrote these girls and I was so proud of them, I thought they were sort of unique and interesting, that it was a process of going through the whole audition process and finding actresses that could really make them come alive. Not stopping until I just had the perfect one. One of the things that is really interesting is actually the way I ended up casting Sydney Poitier, was similar to the way he cast Marley. In both cases we had both read her for other movies at least twice actually and really liked them, thought they were really interesting actors. So finally we were like fans of theirs just from them being in our rooms, okay I think now is the time for us to actually work together.
Grindhouse hits theaters on April 6th 2007.