Grindhouse Gets An R-Rating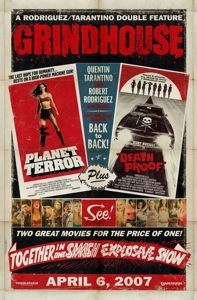 Last week Page Six caused a scare, claiming that the Tarantino/Rodriguez' double feature Grindhouse was headed for an NC-17 unless they made massive cuts. Well the MPAA has granted the film an R-Rating after all.
The MPAA gave Grindhouse an R-Rating for strong graphic bloody violence and gore, pervasive language, some sexuality, nudity and drug use.
It will be interesting to see how much footage had to be removed to earn the more respectable R. I guess we'll have to wait for the inevitable unrated DVD release to find out.
Grindhouse hits theaters on April 6th 2007.