The Buzz: 300 Is A Stale Bloody Spectacle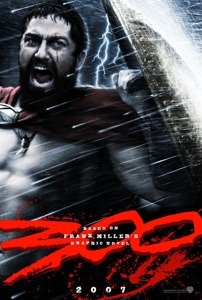 300
Director: Zack SnyderStarring: Gerard Butler, Lena Headey, Dominic West, David Wenham, Vincent Regan, Michael Fassbender, Tom Wisdom, and Andrew PleavinRunning Time: 116 minutesMPAA Rating: R for graphic battle sequences throughout, some sexuality and nudityBuzz Rating:
5 out of 10
The Good:
"Look, but don't be touched: There is much to see but little to remember in this telling of a battle we are meant never to forget."
Lisa Schwarzbaum, Entertainment Weekly
"300 may not offer masterful storytelling in a conventional sense, but it's hard to beat as a spectacle and that makes it worthwhile viewing for all but the most squeamish of potential audience members. "
James Berardinelli, ReelViews
The Bad:
"...so over-the-top it's laughable — so self-serious, it's hard to take seriously."
Christy Lemire, Associated Press
"It's a ponderous, plodding, visually dull picture, but the blame shouldn't be put on Snyder's skills per se, and has nothing to do with his ambition to blur the distinction between CGI and photography. Frankly, it's the slavish, frame-by-frame devotion to Miller's source material that's the problem."
Nathan Lee, Village Voice
"There's a stale, synthetic airlessness about the movie. Imagine a large cast trapped in a series of spectacular screensavers. It could be ancient Greece. It could be somebody's hard drive."
Wesley Morris, Boston Globe
"Despite the fantastic visuals, action and sometimes rousing story, the needle flickers between grandiose and laughable — in part because the film takes itself sooo relentlessly, slow-motion, music-swellin', see-you-in-hell seriously."
Mark Rahner, Seattle Times
"Another movie — Matt Stone and Trey Parker's "Team America," whose wooden puppets were more compelling actors than most of the cast of 300 — calculated the cost [of freedom] at $1.05. I would happily pay a nickel less, in quarters or arcade tokens, for a vigorous 10-minute session with the video game that 300 aspires to become."
A.O. Scott, The New York Times