Indiana Jones 4 And The Filming On June 18th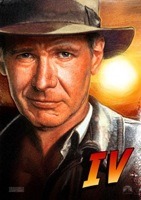 Everything is set. It's actually going to happen. Still don't believe it?
Steven Spielberg told Fox411 that production will begin on Indiana Jones 4 on June 18th 2007. With cameras set to roll in less than four months, expect some big casting announcements soon. So far, Harrison Ford is the only cast member officially announced.
Most recently it was rumored that Transformers star Shia LaBeouf might be in line to play Indy's son. Past rumors have included Natalie Portman as Ford's daughter, and Sean Connery returning as Indy's father. We'll find out what's real and what's fake soon enough.
Indiana Jones 4 hits theaters on May 22nd 2008.