Reno 911!: Miami Movie Review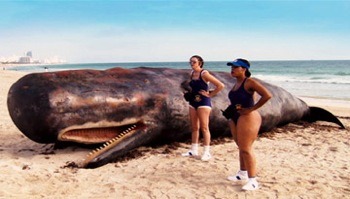 Improvisational comedy has always annoyed me (I liked Borat, but who didn't?). Unlike other forms of comedy, the moments in between the laughs are squiggle in you seat bad. When it doesn't work, it REALLY doesn't work. I've never tried watching Reno 911! on tv, nor did I ever have the urge to. So I'm probably the worst audience for a feature film spin-off movie. While entering the theater I realized there was a Zodiac screening two theaters over from me (which press wasn't invited to). I've wanted to see David Fincher's San Francisco serial killer thriller ever since it was announced. I sat patiently waiting for the movie to begin. The voice inside my head kept shouting at me "Zodiac is two theaters over, and you're stuck in sketchville". The college aged kids around me laughing. The radio station street team making their announcements. They can't find the microphone so they try yelling over the loud music that's playing in the background. All of it to annoy me. Why wasn't I invited to Zodiac? To say the deck was stacked against me liking this film is an understatement. The lights went out, and somehow the voice faded into the background. I'm reluctant to admit this, but Reno 911!: Miami isn't half bad.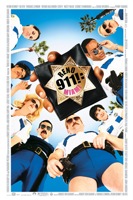 Starring: Robert Ben Garant, Thomas Lennon, Niecy Nash, Mary Birdsong, Cedric YarbroughDirected by: Robert Ben GarantRelease Date: February 23rd, 2007Genres: ComedyRunning Time: 84 minutesMPAA Rating: R for sexual content, nudity, crude humor, language and drug use.Distributors: 20th Century Fox
Reno 911!: Miami follows the bumbling cops everyone has grown to love from the popular Comedy Central television series as they travel to a national police convention in Miami. When a bioterror threat leaves all the cops in the United States quarantined within the convention center, the Reno Sherif department is put in charge of finding an antidote and watching over the city of Miami. They have a run in with a local Scarface-esque mob member played by Paul Rudd, answer a noise disturbance at Suge Knight house, and answer a wild life call on a nude beach. Moments of sporadic laughter fade as the movie chugs to an anticlimactic close. And to chug to an 84 minute finish is quite an accomplishment.
Like the show, the film is shot mostly handheld, lampooning COPS and other reality television. Sometimes the characters acknowledge the camera is in the room, conducting sit down interviews, and other times the camera becomes a fly on the wall of the improvised scenes. There is no real explanation, nor would I expect one. Logic is thrown right out the window in the first 10 minutes.
While most comedies look colorful and polished, 911!: Miami looks like a badly shot independent film. Ben Garant is incompetent behind the camera. The film is devoid of any cinematic visuals (well evident by the film's climatic chase sequence and show-down). The budget was squandered into wasted set pieces and effects shots. I keep asking myself "what sets this apart from a direct to dvd or television movie?" And the answer is nothing. And this is why I can recommend Reno 911!: Miami as a rental or an On Demand click, but not as a trip to the multiplex.
Dwayne 'The Rock' Johnson makes a hilarious scene-stealing cameo. The cast of quirky police stereotypes grew on me enough to make me want to check out the series.
/Film Rating: 5.5 out of 10