Clint Eastwood Admits Scorsese May Win First Academy Award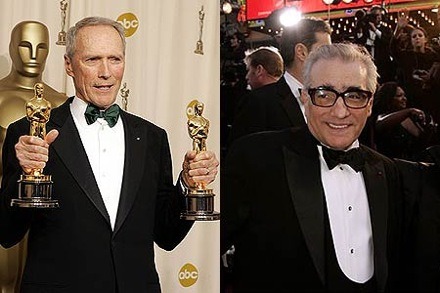 Clint Eastwood believes that Martin Scorsese will finally claim the Academy Award he so rightfuly deserves, and beat him to the Best Director prize.
Two years ago Eastwood's Million Dollar Baby beat Scorsese's The Aviator.
"He [Scorsese] probably has a good chance, there is a lot of sympathy for him, but I have no control over any of that. I always feel sorry ... for the others, because there are other nominees and they've worked very hard on their projects, too. I don't think any two people should be singled out."
Scorsese has seven Oscar nominations but has yet to win a Best Director Oscar. This factoid is one of the most told jokes in Hollywood. But there are more than a few great directors who have been nominated but never won a competitive Oscar for directing:
Alfred Hitchcock (5 nominations)
Robert Altman (5 nominations)
Stanley Kubrick (4 nominations)
Federico Fellini (4 nominations)
Ingmar Bergman (3 nominations)
David Lynch (3 nominations)
George Lucas (2 nominations)
Orson Welles (1 nominations)
Altman, Hitchcock, Fellini, Bergman, Welles, and Lucas have all been awarded honorary Oscars.
Scorsese's editor Thelma Schoonmaker claims that Scorsese often says "We should feel lucky we even get to make movies anymore," of his lack of Academy recognition.
But this year may be the year. Scorsese is 1-5 favorite to win his first Academy Award, as well as Best Motion Picture.