Movie Review: The Host
Since it's premiere at the 2006 Cannes Film Festival, Joon-ho BONG's new film The Host has garnered huge international buzz. So I went into the screening with unreachably high expectations and was not disappointed.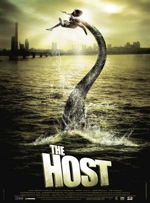 Starring: Song Kang-ho, Scott Wilson, Byun Hee-Bong, Park Hae-il, Bae DoonaDirected by: Bong Joon-HoRelease Date: March 9th 2007Genres: Thriller/HorrorRunning Time: 119 minutesMPAA Rating: R for creature violence and language.Distributors: Magnolia Pictures
Havoc ensues as a creature climbs out of the Han River and begins to eat and crush the large group of onlookers. After eating a young girl named Hyun-seo, the creature disappears back into the river. The incompetent government believes the monster is spreading an unidentified virus. They refuse to listen to the people even after one father receives a phone call from his undead eaten daughter. The Host is the best creature thriller since Jurassic Park. When the Steven Spielberg epic first hit the multiplexes, many people were excited at the new possibilities that could be created with computer-generated monsters. Most of the films the followed looked like cartoons. The Host is not the best horror movie of the last ten years, nor does it have the best looking special effects. But the film just works where mot films tried and failed.
Some people are comparing the film with Spielberg's Jaws. I think that comparison is weak. The monster in The Host is revealed and shown in full glory early on. It can swim, climb, and run on land. It's a very different animal and movie than Jaws.
The Host is also not your typical shallow horror flick. It contains socially relevant-underlying messages, which you would normally expect from a smart dramatic film.
/Film Rating: 7.5 out of 10