Mission: Impossible - Dead Reckoning Could Break Even At The Box Office, Thanks To A Lawsuit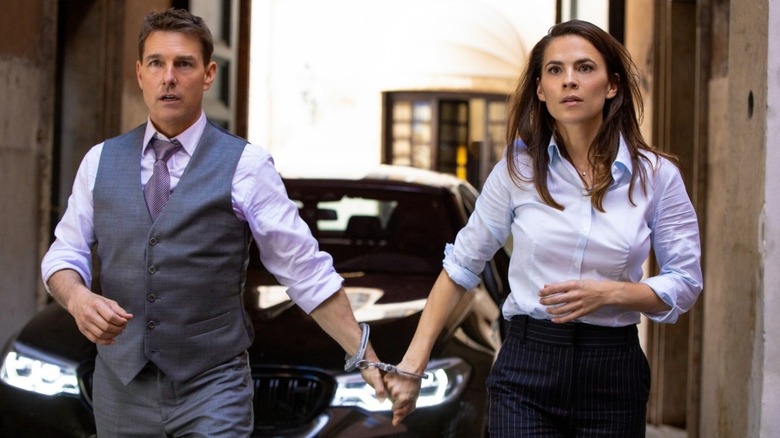 Paramount Pictures
"Mission: Impossible – Dead Reckoning Part One" may not have been the hit that Paramount Pictures was counting on, but the sequel has been handed a major lifeline. Tom Cruise's latest, which hit theaters back in July, was one of the biggest blockbusters of the summer in every sense. Thanks largely to delays and other expenses incurred by the pandemic, the budget rose to an eye-melting $290 million. Fortunately for Paramount, they've now got a huge chunk of that back, thanks to a successful lawsuit.
As reported by The Times, Paramount has confirmed it received a £57 million payout from Swiss insurance firm Chubb. That equates to about $71 million. Paramount had a $100 million insurance policy with Federal Insurance Company, a unit within Chubb's larger corporate umbrella. Director Christopher McQuarrie and the rest of the crew were forced to shut down production several times while filming "Dead Reckoning" due to pandemic-related issues. Federal, initially, only paid around $5 million to the studio, according to their interpretation of what was owed per the language of the contract. Paramount then filed a lawsuit to get more money.
The insurer "stated that there was no evidence that cast and crew members could not continue their duties, despite being infected with SARS-CoV-2 and posing an undeniable risk to other individuals involved with the production," according to The Hollywood Reporter. Federal said that the "policy speaks for itself" in response. In the end, Paramount received a great deal more for their troubles.
Paramount and Federal reached the settlement a little while back, but the figure has only recently been revealed. That settlement now brings the hugely expensive film $71 million closer to profitability. That's no small number, and it might actually be enough for the film to break even during its box office run.
Mission accomplished?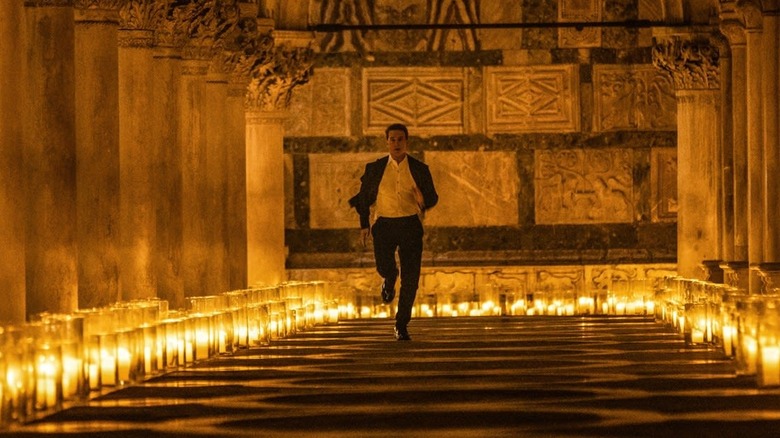 Paramount Pictures
As of this writing, "Dead Reckoning, Part One" has earned $566 million worldwide and it's running out of gas, so it is almost certainly going to finish under $600 million when all's said and done. That's a far cry from the high for this franchise, which came in 2018 with "Mission: Impossible – Fallout" earning $786.6 million worldwide. That movie also had a much smaller $178 million budget. But if we subtract that $71 million from the $290 million reported budget, it comes down to $219 million. That's still very expensive but far more manageable for a franchise that has generated more than $4 billion in ticket sales, dating back to its big screen debut in 1996.
Depending on what other accounting needs to come into play here, if "Dead Reckoning" finishes with around $575 million globally, it could at least get close to breaking even. Given that the studio paid crew salaries and kept people in the industry working at an incredibly hard time, it feels appropriate that Paramount isn't left holding the bag on this one. Even if the movie doesn't totally break even in theaters, with VOD revenue, 4K and Blu-ray sales, and other revenue streams, it will certainly reach profits at some point. It may not be the money-maker that previous entries have been, but this settlement ensures it won't be an outright disaster.
This is especially good, because "Part Two" is currently due to hit theaters next summer. However, the sequel also had to halt filming due to the ongoing Writers Guild of America and Screen Actors Guild strikes. Even so, whenever it does hit theaters, it probably won't be contending with two juggernauts like "Barbie" and "Oppenheimer." The Barbenheimer of it all kneecapped "Part One" pretty badly, so hopefully Ethan Hunt's future looks far brighter now.
"Mission: Impossible – Dead Reckoning Part Two" is currently set to hit theaters on June 28, 2024.