Five Nights At Freddy's Director Drew Inspiration From A DC Supervillain – And Steven Spielberg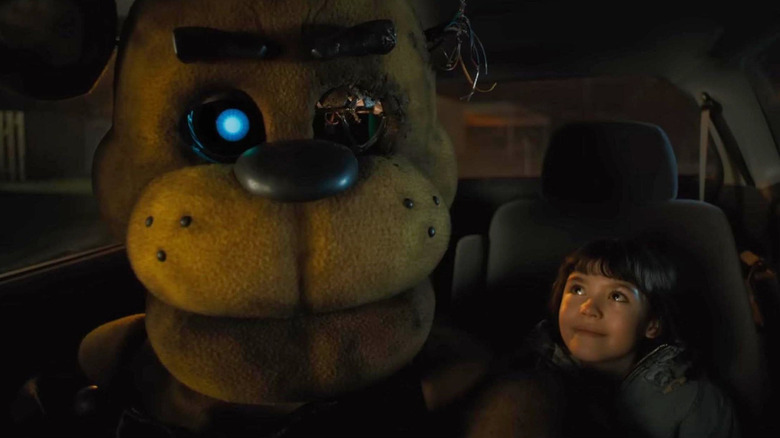 Universal Pictures
Once upon a time, it's not inconceivable Steven Spielberg might have directed "Five Nights at Freddy's" or a film just like it. Recall that the young Spielberg loved terrorizing audiences. His first feature-length directorial effort, the made-for-TV 1971 thriller "Duel," was such an exhilarating blast that it eventually got a theatrical release. Then came his horror-adventure classic "Jaws," followed by the suburban nightmare of "Poltergeist" (knives down, folks; Tobe Hooper was the credited director, but both he and Spielberg deserve recognition for their contributions). Hell, from a certain point of view, "Jurassic Park" is sort of like "Five Nights at Freddy's" only with dinosaurs. Sometimes when an entertainment attraction breaks down, the animatronics actually do eat the tourists.
"Five Nights at Freddy's" casts Josh Hutcherson as Mike Schmidt, an unassuming security guard who accepts a job keeping watch of Freddy Fazbear's Pizza at night, only to discover the animatronic mascots of the once-prosperous family entertainment center like to come alive and commit murder under the cover of darkness. The setting of both the film and the video game series that inspired it is clearly riffing on the real-life Chuck E. Cheese, a pizzeria chain that many children of the '80s or '90s may recall with a strange mix of nostalgia and discomfort thanks to its own unsettling mascots. (Chuck E. technically shares his name with a homicidal toy, I'm just saying.) 
Co-writer and director Emma Tammi knew she needed to nail that same feeling for her film adaptation to work, which is why she looked to the master of blending awe with terror, Spielberg himself. "We were constantly referencing Steven Spielberg — you know, that childhood wonderment quality," she told Total Film Magazine (via GamesRadar+). For the film's visual style, however, she turned to a pair of dramatically different influences.
I'm going to become the Tree of Life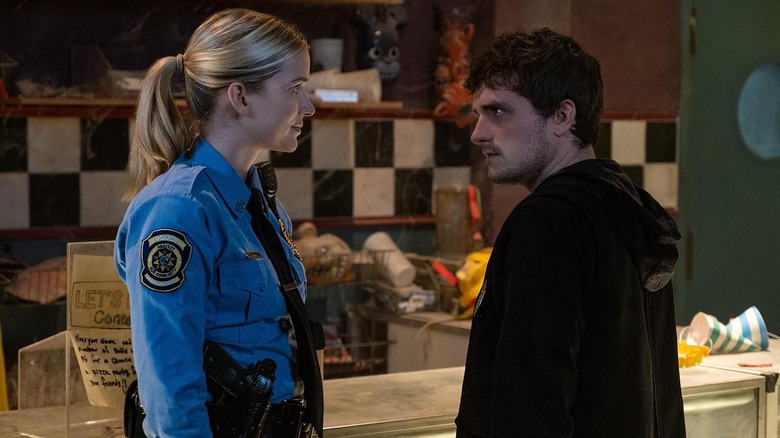 Universal Pictures
When you watch the "Fives Nights at Freddy's" trailers, you can see the film's world is one of grungy, dimly-lit interiors and scuzzy exteriors, much like the one Joaquin Phoenix's Arthur Fleck occupies in Todd Phillips' Oscar-winning DC Comics crime drama "Joker." That's no coincidence, either. Tammi confirmed she and her cinematographer Lyn Moncrief envisioned the setting of "FNAF" as a "kind of a darker world that felt akin" to that of the polarizing DC supervillain flick, crossed with (naturally) the atmosphere of a haunted house film. But if you think the "Joker" influence is pretty wild, just wait till you read about the other one Tammi mentioned during the interview:
"Some of our scenes that have to do with our main character's backstory and memory were also influenced by a [Terrence] Malick-esque camera style, to give them a more dreamlike quality [...] those scenes that were taking place in forest campground settings. There were a lot of different types of references we were pulling to really craft something that felt unique."
Unexpected? Certainly, but it makes sense the more you think about it. In point of fact, "Five Nights at Freddy's" won't be the first recent horror film to emulate the "Thin Red Line" and "Tree of Life" filmmaker's distinctly subjective, wide-angle visuals as a way of either pulling you into a character's mindset or making a specific location feel more surreal ("Gretel & Hansel" is one such example that springs to mind). Throw in the practical puppets designed by Jim Henson's Creature Shop for the film and you've got a promising recipe for a great-looking work of horror.
"Five Nights at Freddy's" opens in theaters and begins streaming on Peacock on October 27, 2023.