Guardians Of The Galaxy's Spectacular First Soundtrack Set An Impressive Billboard Record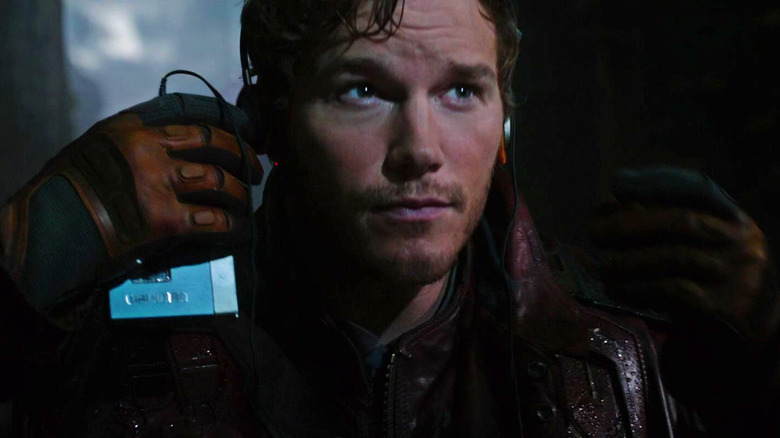 Marvel Studios
To say that 2014's "Guardians of the Galaxy" was an unlikely success is an understatement. Sure, by that point the Marvel Cinematic Universe had established itself as the dominant force in popular culture, but taking a team of C-list superheroes that includes a talking tree and giving them the blockbuster treatment? Until the moment James Gunn's movie actually hit theaters, it seemed like a fool's errand. But Gunn proved all of us wrong in a big, bad way. A major part of the movie's success? The brilliant stroke of a soundtrack, dubbed "Awesome Mix Vol. 1."
Gunn did indeed use a musical score, composed by Tyler Bates, in the film. But pop songs that Peter Quill would have heard on Earth as a kid were woven into the fabric of "Guardians of the Galaxy" as well, with the sounds included on Star-Lord's mixtape anchoring the soundtrack. And that soundtrack holds a pretty impressive record as it was actually the first soundtrack in history that featured no original songs to top the Billboard 200 albums chart.
Audiences first got a taste of the soundtrack when Blue Swede's "Hooked on a Feeling" was included in the movie's trailer. It led to huge demand for that song and, come time for the movie's release, people ate up the full soundtrack, which also includes tunes such as "Moonage Daydream" by David Bowie and "Come and Get Your Love" by Redbone. The album managed to top the Billboard charts in its second and third week of release in August 2014. To date, it has sold over 3 million copies worldwide and counting. The only other soundtrack to sell more albums in 2014? The "Frozen" soundtrack, which was actually the second-biggest album of the year behind Taylor Swift's "1989."
That personal touch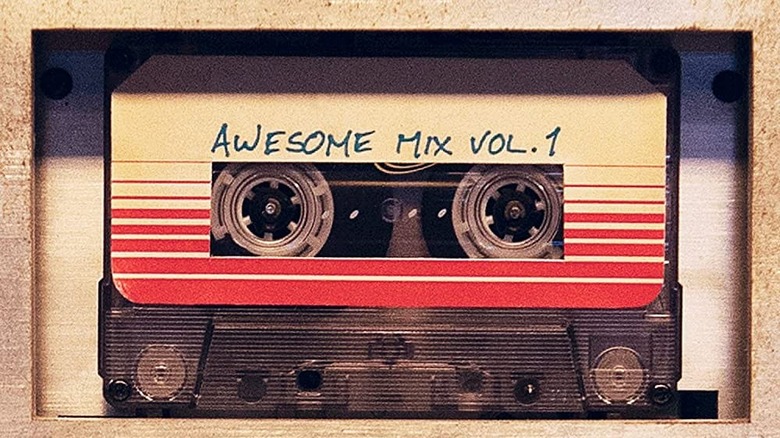 Hollywood Records
There is much to be said about the runaway success of "Awesome Mix Vol. 1." For one, it says a lot about the way "Guardians of the Galaxy" captured the attention of people in advance of and just after its initial release. Yes, it absolutely helped that James Gunn used popular songs such as "I Want You Back" by The Jackson 5, but songs like "Hooked on a Feeling" were all but forgotten at that time. The assembly of these very specific tunes, in connection to a very unique superhero film, was an act of pure genius.
It goes back to a line in "Parks and Recreation" where Adam Scott's Ben Wyatt explained why he had so many film soundtracks in his car: "I kind of look at it like it's your favorite directors making a mixtape just for you." This was Gunn's mixtape made for the Marvel fans of the world. In a Facebook post when the album first topped the charts, Gunn had the following to say about it:
"All those days as a child I spent locked in a room listening to AM radio were not wasted! Somewhere in a boardroom right now a movie executive is trying to give a film that's not testing well the 'Guardians soundtrack treatment but with a new twist' — say, nineties grunge hits over a buddy action comedy. This is something you will not thank me for."
Sure, other movies have tried to emulate this success in the years since, but nothing has really taken off in quite the same way. Gunn, meanwhile, also had success with "Awesome Mix Vol. 2" for "Guardians of the Galaxy Vol. 2," as well as "Awesome Mix Vol. 3" for "Guardians of the Galaxy Vol. 3." Attempting to capture that same lightning in a bottle is a fool's errand.