Awkwafina And Jacob Tremblay Give Us The Scuttlebutt On Their Little Mermaid Roles [Exclusive Interview]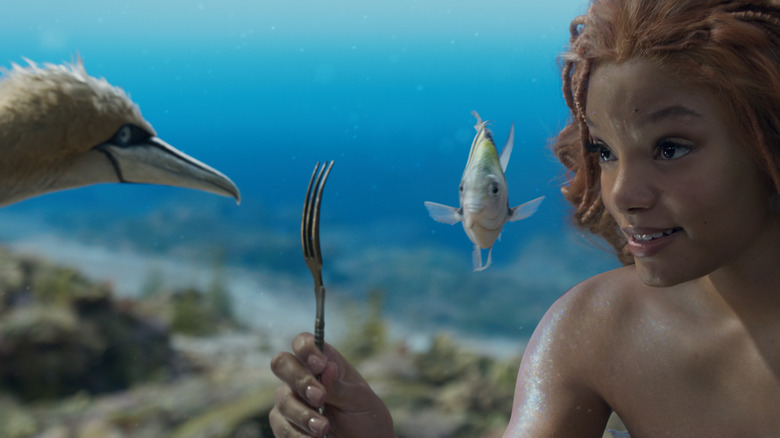 Disney
This post contains mild spoilers for "The Little Mermaid."
Get out your dinglehoppers, everyone: Disney's live-action version of the 1989 classic animated film "The Little Mermaid" opens at the end of this month. The film stars Halle Bailey as Ariel, the mermaid longing for adventure. She gives up her voice to the sea witch, Ursula (Melissa McCarthy), to have a chance to live on land, and to remain there, she must receive a true love's kiss from Prince Eric (Jonah Hauer-King) in three days. As you might expect, that won't be an easy task. 
Helping Ariel navigate this new world are her little buddies Flounder (voice of Jacob Tremblay) and Scuttle (voice of Awkwafina). I recently spoke to the actors who play the fish and bird sidekicks about their roles, working with director Rob Marshall, Scuttle's new song, the unusual voiceover situation they were in with this film, and its potential impact on future generations.
Note: This interview has been lightly edited for clarity and brevity.
'Rob Marshall just really let me explore'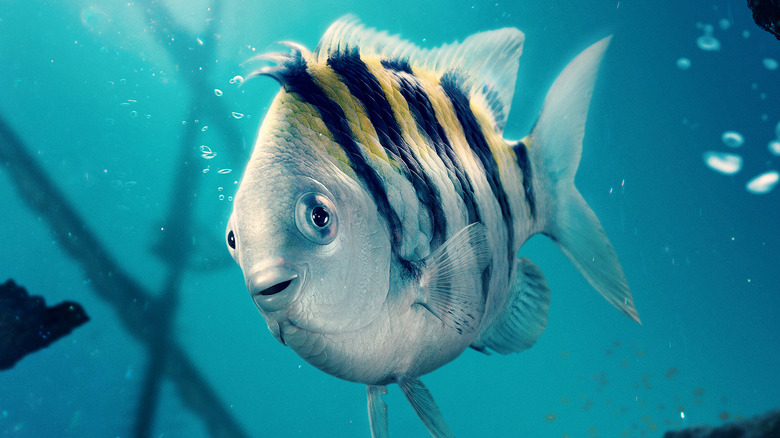 Disney
Awkwafina, I know that you rap, but you were singing here. What was that like to take on? Were you nervous about it?
Awkwafina: Yeah, definitely. These are classics that we're bringing back, so I was definitely really nervous. But one thing that Rob Marshall is so good at is just making you feel comfortable in that space, especially for first-timers, obviously. But yeah, it was so fun, that the entire process. 
Voiceovers are interesting because you're usually by yourself, but you guys said in the press conference that you got to be in the room together. How is that in terms of improv? Does it help? Does it hurt?
Tremblay: Oh, yeah. No, it definitely helps. I mean, obviously, I was super nervous going into this role. But being there with everyone, it's really cool because you get to kind of riff off each other, and it just makes it a really fun experience.
Awkwafina: Yeah, when you're there all together, and you can read the scene out. You can take it in all kinds of directions.
Jacob, I know everyone was kind of teasing you during the press conference about the original movie coming out before you were born, so I'm curious how much you studied it. And did you study any other animal sidekicks from Disney?
Tremblay: Well, yeah, I mean, I always grew up with this film. I don't really remember the first time I watched it, so it's always kind of been there for me. But yeah, I wanted to stay true to Flounder just because I feel like his character is so lovable because he's very loyal and very honest, but his anxiety is very prevalent, so I wanted to make sure I did that. Unfortunately, I didn't study any other sidekicks, but I wish I did. I think my favorite sidekick is definitely Mushu from "Mulan."
Aw, Mushu!
Tremblay: I love him. He's great!

Well, now you're going to be the one that everyone else studies.
Tremblay: Hopefully. That'd be great.

Awkwafina: Yes!
Awkwafina, you got to use a New York accent. As a fellow New Yorker, I appreciate that. Was there every any discussion about that?
Awkwafina: Well, I really love the way that Buddy Hackett did it, and I think the Scuttle that he did, with the whole dinglehopper conversation, I wanted to have elements of that. And then Rob Marshall just really let me explore. I think it was literally the day we started recording, Scuttle appeared.
It makes sense. Birds could be flying in from anywhere. 
Awkwafina: That is true. Yes!
'It's pretty rare that you get to experience the other world of it'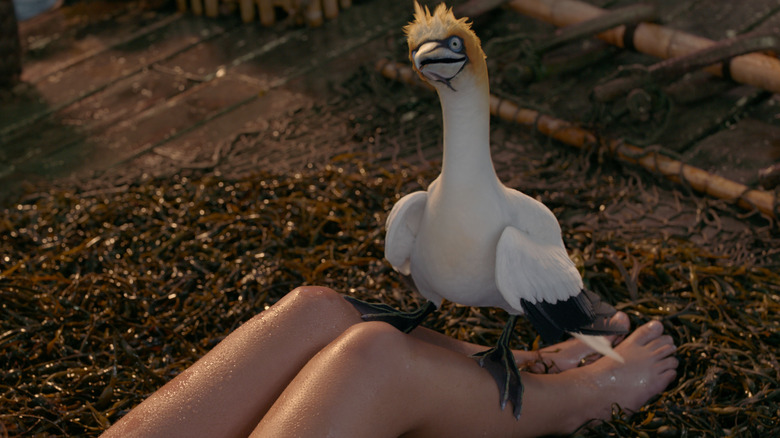 Disney
I know there was some initial concern about the idea of having "cute" live fish and "cute" birds, but they were adorable. So did you guys actually look at the species, or were you just really concentrating more on script?
Tremblay: Well, I think an actual flounder looks very different from the design they used. I think it's just the name they decided to name him. But yeah, I saw the design for him when I went in for the audition, and I really like how it works. I think it blends in so well. I think it's so cool how they use real sea life.
Awkwafina: Many aquariums.
Did you really go to aquariums?
Awkwafina: No, I dabble.
You dabble in aquariums? [laughs]
Awkwafina: Just a little light research. But we love birds. 
So this is kind of a split cast. You've got your voiceover cast and your live-action cast. Did you guys get to be on set at all, or did you see anybody from the rest of the cast?
Tremblay: Yeah. We were pretty much there doing our recording during the live-action's pre-production process, so we were actually able to be there for a lot of the rehearsal. For example, for "Kiss The Girl," when they were rehearsing the whole setup of the boat and just working on the timing of it all, we were there helping out with that. And it was great because I actually got to hear Halle sing in person, which was fantastic.
Awkwafina: Yeah. It's pretty rare that you get to experience the other world of it, and it was definitely, I think, my first hybrid. So seeing it as a final product, you can't even begin to imagine, at that stage, what it'll be.
Here's an awkward question: What do mermaids eat? Because I feel like at least you [gestures to Jacob] would be food.
Tremblay: Well, what I noticed in the film is that when Halle's on land, she eats a bar of soap, which has a fluorescent scent, and then she also tries to eat a flower. So maybe they have a vegetarian diet. I mean, that's how they're in such good shape.
Awkwafina: That is such a good analogy. That's so true. That's very observant. 
Tremblay: Yeah!
Awkwafina: Yes, yes. No, it's come up a couple times, the idea of eating Flounder. I just want to come to his defense real quick and say let him live, you know what I mean? You don't have to be eating 'em all the time.
Hey, I'm a vegetarian. I appreciate that. 
'I think it's going to be as memorable as the original was, and those are big shoes to fill'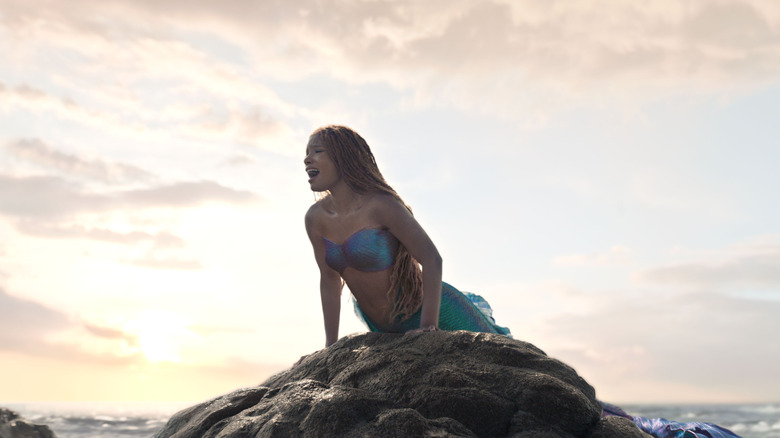 Disney
Awkwafina, there was a really cute moment where you did the whole "bow-chicka-wow-wow" thing for Ariel and Eric. Was that improv? Was that in the script?
Awkwafina: I think that did it just as a throwaway and kind of knowing that maybe it'll never be used. And then Rob was like, "Okay, whatever that was, bring it back. We're going to extend it out," and it was really cool that it was used.
"Scuttlebutt" got the biggest reaction at the screening that I was at. It was unbelievable. 
Awkwafina: Oh, nice!
People were screaming. So, how do you feel about that? What do you think about doing raps like that? 
Awkwafina: Oh, man. They say it's already horrendous for actors to watch themselves and hear their own voice. I think it's a whole other level of preparing to hear yourself perform, in a context such as this. I had so much fun recording it, and I am such a fan of Lin-Manuel Miranda, who wrote it. And it's very him, so it was an honor to do it.
Obviously, the first film was a big thing for a lot of generations. What do you think the impact is going to be with this one? Because there are a couple of changes.
Tremblay: Yeah, I think I'm really excited because like you were saying ... older fans are going to really enjoy it, and then obviously reintroducing it to other audiences, younger audiences. But what I love about it is how it takes very lovable and memorable characters from the original that people know so well and then diving deeper into their stories. For example, Eric — he has his own song now.
Awkwafina: Yeah. I think it's going to be as memorable as the original was, and those are big shoes to fill. I was blown away when I saw what they've done and what we've done, too. Obviously, I would say that I'm biased. But yeah, I think people are going to love it.
"The Little Mermaid" will hit theaters on May 26, 2023.