Star Trek: Picard Showrunner Knows A 'Most Wonderful' Way To Bring One Character Back From The Dead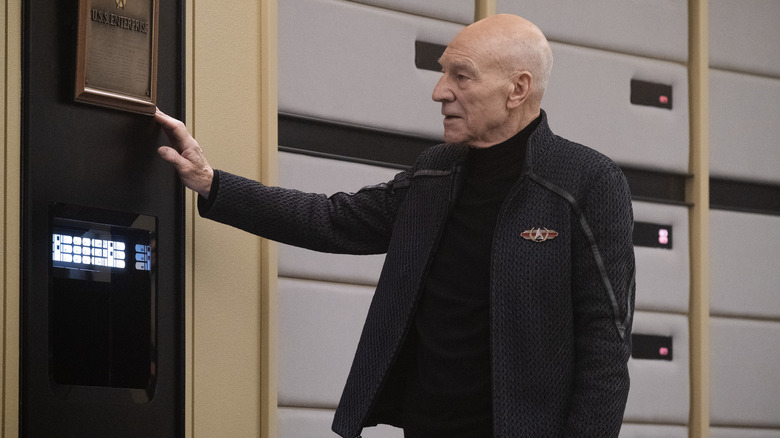 Paramount+
This article contains spoilers for the series finale of "Star Trek: Picard."
"Star Trek: Picard" season 3 showrunner Terry Matalas wants to continue the story in a spin-off series, potentially called "Star Trek: Legacy," and he's already full of ideas on how to pull it off. At a press roundtable attended by /Film's Vanessa Armstrong, Matalas revealed that while one fan-favorite character died during the course of "Picard," he has a pretty neat idea on how to potentially bring them back in the future. As far as we can tell, "Legacy" would follow the crew of the U.S.S. Enterprise-G, including Captain Seven of Nine (Jeri Ryan), Number One Raffi (Michelle Hurd), and Special Counsel to the Captain, Jack Crusher (Ed Speelers), who would have to negotiate the strange new world of life in Starfleet after the Borg event that nearly wiped out the Federation. 
There's just one problem: Starfleet's most curmudgeonly captain isn't around to see this future he helped create, and that's a major bummer. Fans had such a great time getting to know Todd Stashwick's Captain Shaw that killing him off in "Picard" felt like a waste of a wonderful character, but apparently Matalas has a plan to maybe bring him back. I don't know about you, but I'll watch any "Star Trek" that features my favorite dips*** from Chicago, so I hope Matalas can make it work.
'He was always supposed to die'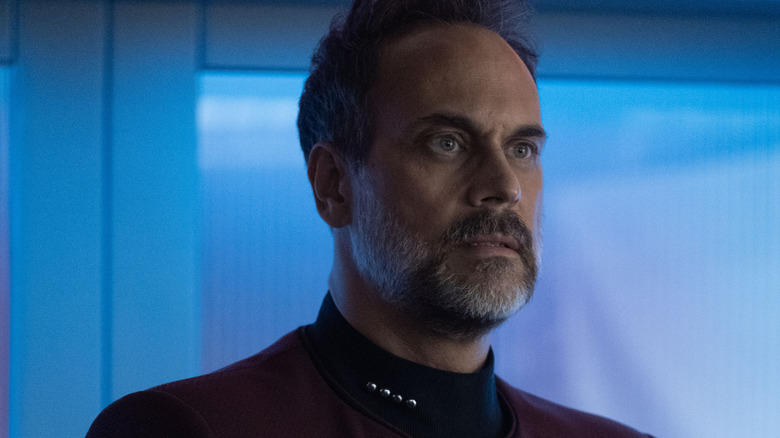 Paramount+
When asked about Shaw's fate and whether or not he was always supposed to die in "Picard," Terry Matalas explained that the character was a sacrificial lamb from the beginning, with a clue in his very name:
"No, he was always supposed to die. [...] It was always his arc. He's named Shaw after Robert Shaw in 'Jaws.' He was going to get eaten by the shark. He was going to be killed by the Borg. That was always a very, very simple story. It was part of his fate."
That makes a lot of sense, especially given that this Shaw had his own version of the classic "U.S.S. Indianapolis" monologue from "Jaws," but it's still a pretty major bummer. Apparently what the crew behind "Picard" season 3 hadn't anticipated was just how much the fans would love Shaw, as the character became a fan-favorite pretty quickly. What's not to love about a no-nonsense Starfleet captain who's willing to stand up to titans of the Federation in the name of what he thinks is right? Sure, he's a little racist against the Borg in the beginning, but no one's perfect and he was working on that! Matalas attributes Shaw's surprising success with the fans to the writing team and Todd Stashwick's charisma, making the character so much more than just a simple grumpy Gus. The role was even "tailor-made" for Stashwick after he and Matalas worked together on "12 Monkeys," and it would be fun to see them work together again on "Legacy."
A way back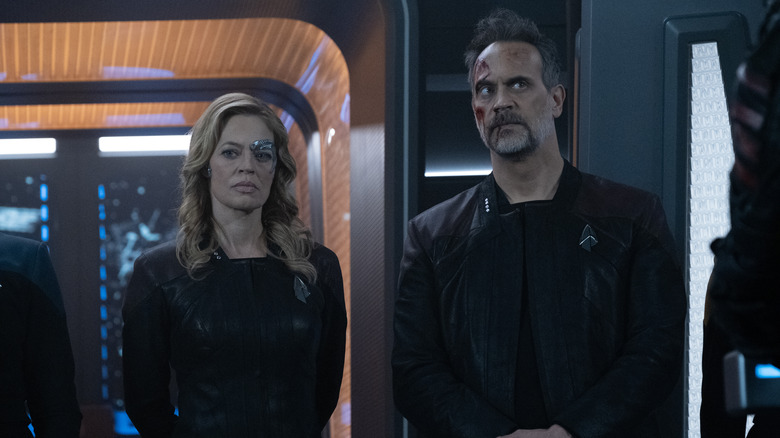 Paramount+
Todd Stashwick and Shaw both rule, and "Star Trek" fans want more! Thankfully, Terry Matalas also revealed that there's a plan in place to bring Shaw back if they manage to get "Legacy" off the ground and decide to resurrect the cantankerous captain:
"We knew from minute one there is a way for Shaw to return in the most wonderful way, that's not a cop out, if we ever were to come back and it's awesome. Awesome."
There are a lot of different ways for characters to return from the dead in the "Star Trek" franchise, ranging from deeply scientific to totally fantastical. There could be a Shaw clone or android, for example, or the franchise's main mischief maker, the god-like Q (John de Lancie) could play with the nature of reality to bring him back. Honestly, the whole idea of bringing Shaw back from the dead after everything he went through is darkly hilarious and fits the character's arc pretty well, forcing him back into the line of duty when all he wants is a break. If that's not relatable, I don't know what is. We'll have to wait and see what happens when it comes to "Star Trek: Legacy" and Captain Shaw's role in it, but I'll be keeping my fingers crossed for this jazz-hating sass machine to return.
The entirety of "Star Trek: Picard" is available to stream on Paramount+.