FUBAR Trailer: Arnold Schwarzenegger Is An Action Dad In Netflix Spy Comedy Series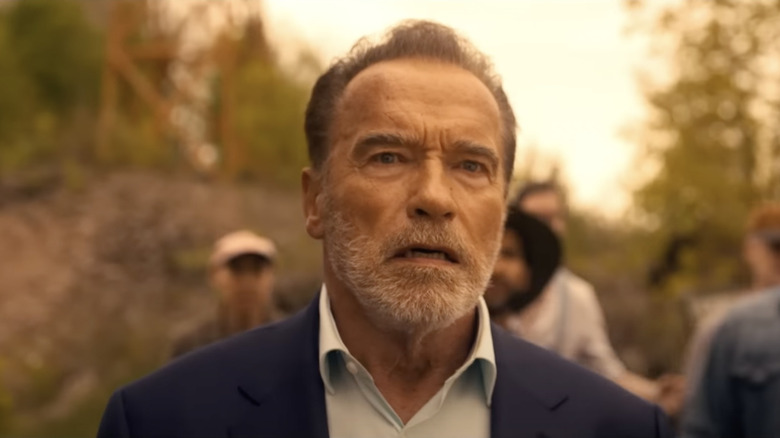 Netflix
He's back. And this time, he's coming for the world of streaming TV shows. Arnold Schwarzenegger was once the biggest movie star on the planet, but, amazingly enough, he's never in all of his years of stardom been at the center of a scripted TV show. That changes now, as Netflix has roped in the legendary action star for "FUBAR," which is due to arrive on the streaming service next month. It very much looks like a modern action movie made for streaming — only stretched out to the length of a series.
So, why now? What makes this the right time for the "Terminator"and "Predator" star to make the jump to the small screen? If this trailer is anything to go by, budgetary issues certainly aren't getting in the way like they would have in the '90s. Let's have a look at the trailer, shall we?
Schwarzenegger stars in the FUBAR trailer
First and foremost, it is a pretty long trailer. It kicks off with some classic Schwarzenegger action, but we then get into "Taken" territory, with this CIA operative looking to hang it up and spend more time with his family. Before long, it actually becomes a family affair as his daughter has secretly been working for the CIA as well. Drama! There are lots and lots of cheesy one-liners, plenty of bullets, slow motion action, and lowbrow sexual humor. It is genuinely surprising that this is a trailer for a show and not a movie, as it seems tough to imagine this premise sustaining an entire season, but that hasn't stopped Netflix before. 
The official synopsis for the show reads as follows:
When a father and daughter learn that they've each secretly been working as CIA Operatives for years, they realize their entire relationship has been a lie and they truly don't know one another at all. Forced to team up as partners, FUBAR tackles universal family dynamics set against a global backdrop of spies, fantastic action and humor.
The ensemble cast also includes Monica Barbaro ("Top Gun: Maverick"), Milan Carter ("Warped!"), Fortune Feimster ("The Mindy Project"), Travis Van Winkle ("The Last Ship"), Jay Baruchel ("This is the End"), Andy Buckley ("The Office"), Aparna Brielle ("A.P. Bio"), Barbara Eve Harris ("Station 19"), Fabiana Udenio ("Jane the Virgin"), and Gabriel Luna ("Terminator: Dark Fate"). The eight-episode show was executive produced by Schwarzenegger, Adam Higgs, Scott Sullivan, David Ellison, Dana Goldberg, and Bill Bost.
"FUBAR" premieres May 25 on Netflix.