The Year Of Jonathan Majors Comes To A Halt As Marvel And Creed Star Is Accused Of Assault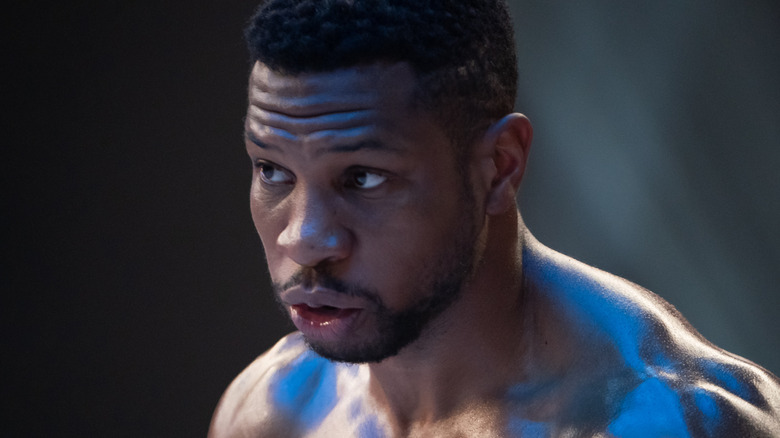 MGM
Update: Majors' defense lawyer, Priya Chaudhry, said in a statement that Majors is "provably the victim of an altercation with a woman he knows," who was having "an emotional crisis." According to Chaudhry, there is a body of evidence proving Majors' innocence, including (per Variety) "video footage from the vehicle where the alleged incident took place, witness testimony from the driver and onlookers and two written statements from the woman recanting the allegations." Original article follows.
The phrase "aged like milk" doesn't quite do justice to a feature that /Film ran yesterday, declaring that "2023 is the Year of Jonathan Majors" and highlighting the actor's gripping performance in Elijah Bynum's upcoming drama "Magazine Dreams." Mere hours after the article was published, the news broke that Majors had been arrested in New York City on charges of assault, strangulation, and harassment. A police statement (via the Associated Press) offered further details about the arrest:
On Saturday, March 25, 2023 at approximately 1114 hours, police responded to a 911 call inside of an apartment located within the confines of the 10 Precinct. A preliminary investigation determined that a 33-year-old male was involved in a domestic dispute with a 30-year-old female. The victim informed police she was assaulted. Officers placed the 33-year-old male into custody without incident. The victim sustained minor injuries to her head and neck and was removed to an area hospital in stable condition.
An NYPD spokesperson confirmed that Majors was no longer in custody as of Saturday night. In an email to the AP, his representative wrote that Majors "has done nothing wrong," adding: "We look forward to clearing his name and clearing this up." 
An open secret?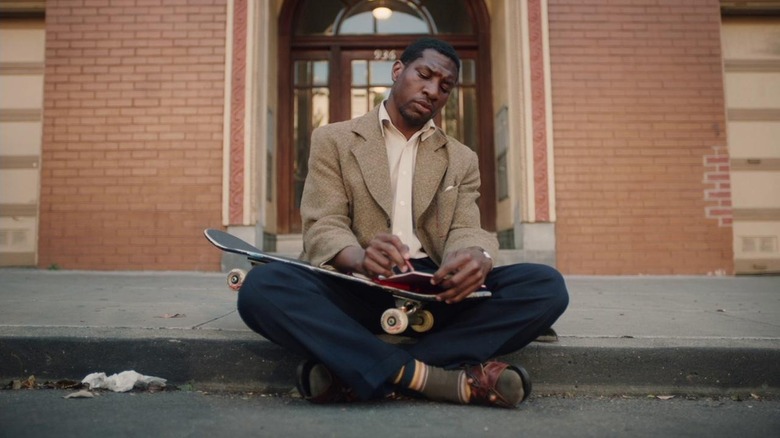 A24
Majors' career has experienced a meteoric rise over the last few years, with roles in Spike Lee's "Da 5 Bloods," Sundance prize-winner "The Last Black Man in San Francisco," and "Creed III." Most notably, his character Kang the Conqueror — who debuted in the Disney+ series "Loki" and recently returned in "Ant-Man and the Wasp: Quantumania" — is primed to be the new Thanos of the Marvel Cinematic Universe: an overarching villain connecting the various stories of the superhero megafranchise. The next big team-up movie is titled "Avengers: The Kang Dynasty," and the story threads leading up to it are already in place.
Through his acting performances, Majors has won a lot of fans — many of whom expressed sentiments of disbelief and devastation in response to the news of his arrest and the details surrounding it. On social media, the initial response was overwhelmingly one of people hoping that the story wasn't true. 
At this early stage, of course, there's much we still don't know. Legally, Majors is presumed innocent until proven guilty, and in both the press and the court of public opinion there have been plenty of cautionary tales about rushing to judgment too quickly. That being said, it is worth mentioning that the news prompted a number of anecdotal reports on social media, claiming that Majors is widely reputed to have a history of troubling behavior. Society Theatre co-founder Tim Nicolai wrote on Twitter (via The Direct): 
"I'm just gonna say this about Jonathan Majors and be done with it: folks at Yale and the broader NYC community have known about him for years. He's a sociopath and abuser and that is how virtually everyone speaks about him. It's a shame it took this long for him to be reported."
A familiar pattern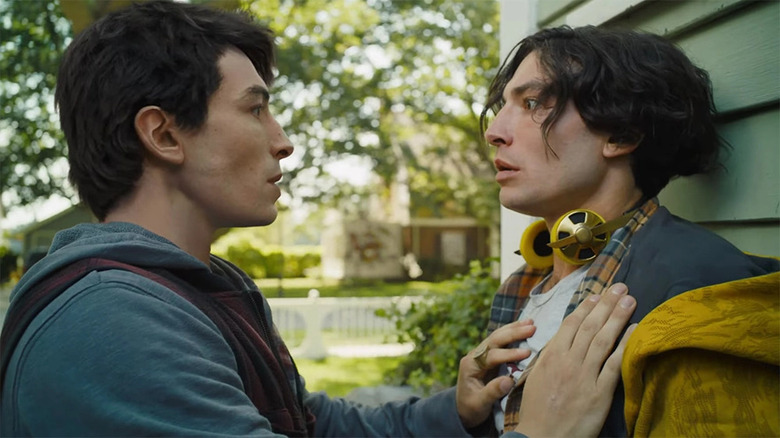 Warner Bros. Pictures
The #MeToo movement has seen a number of Hollywood stars and behind-the-scenes power players fall from grace, and perhaps what's most disturbing is how often their behavior is described as an "open secret." Once an initial story breaks, it is often followed by an avalanche of similar stories that had previously been kept behind closed doors and shared only through whisper networks, for fear of personal and professional repercussions. Watching this familiar pattern play out over and over again raises an obvious, uncomfortable question: Why do so many people whose history of unprofessional, abusive, or downright illegal behavior is an "open secret" nonetheless manage to reach the top of their field in the film industry?
Given Majors' position within one of Hollywood's biggest franchises, this still-developing story is already drawing comparisons to "The Flash" star Ezra Miller, who was arrested three times in 2022 alone on charges of disorderly conduct, harassment, second-degree assault, and felony burglary, and has also faced allegations of grooming minors and leading a cult. In August 2022, Miller released a statement apologizing for their behavior, attributing it to "complex mental health issues" for which they "have begun ongoing treatment." 
With Miller out of the headlines, Warner Bros. Pictures has resumed marketing for "The Flash" and is still planning to release the movie in June 2023. However, while it's looking unlikely that Miller will have any future in the DC Universe beyond that, Marvel Studios will be facing a decision of whether or not to recast Kang for the movies in which Majors was already planned to appear.