Zach Braff Figured Out The Secret To Directing Legends Like Morgan Freeman And Harrison Ford [Exclusive]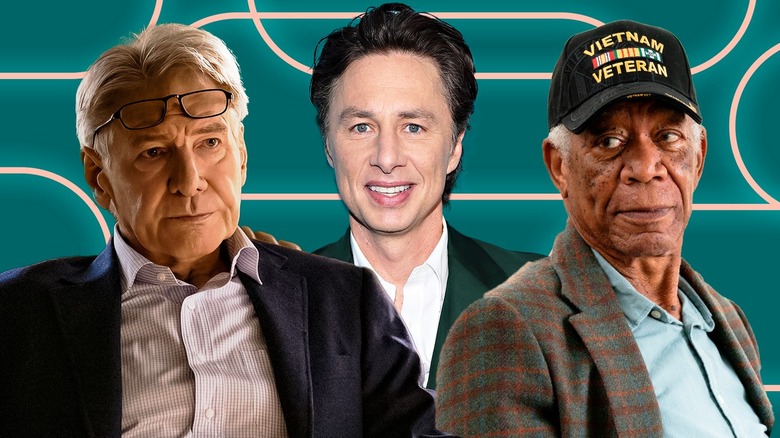 Static Media
Even with only four movies under his belt, Zach Braff has directed more than his fair share of screen legends. His zeitgeist-y indie breakout success, 2004's "Garden State," saw him work with the late Ian Holm ("Alien," "The Fifth Element," "The Lord of the Rings," and much more), who played Braff's father in the film. Braff's sophomore feature, "Wish I Was Here," then saw Inigo Montoya himself, "Yentl" and "The Princess Bride" actor Mandy Patinkin, step in to portray the "Scrubs" alum's onscreen patriarch.
Braff would remain off-screen for his third outing as a director with "Going in Style," a heist comedy remake that saw him direct no less than Morgan Freeman, Michael Caine, Alan Arkin, and Christopher Lloyd. That's not to overlook the many seasoned character actors Braff has also guided from behind the camera over his career, starting with Jean Smart, Ann Dowd, and Jackie Hoffman in "Garden State." More recently, Braff's reunion with "Scrubs" creator Bill Lawrence on "Shrinking" saw him direct none other than Harrison Ford in an episode of the dramedy (which is absolutely worth a look).
For his latest feature-length directorial effort "A Good Person" (read /Film's review), Braff re-teamed with Freeman, casting him as a fellow who unexpectedly bonds with his would-be daughter-in-law (Florence Pugh) after a devastating incident leaves them both drowning in grief. If you guessed Braff was more relaxed about directing the Oscar-winner this time, think again. Here's what he told /Film's Ethan Anderton in an exclusive interview:
"Every single morning in the mirror, I was giving myself pep talks. And we're friendly with each other. I've directed him twice now. He's just very intimidating. I mean, he's Morgan Freeman. So I definitely had to be talking to myself in the mirror, like, 'You've got this, don't be a wimp.'"
A director with a plan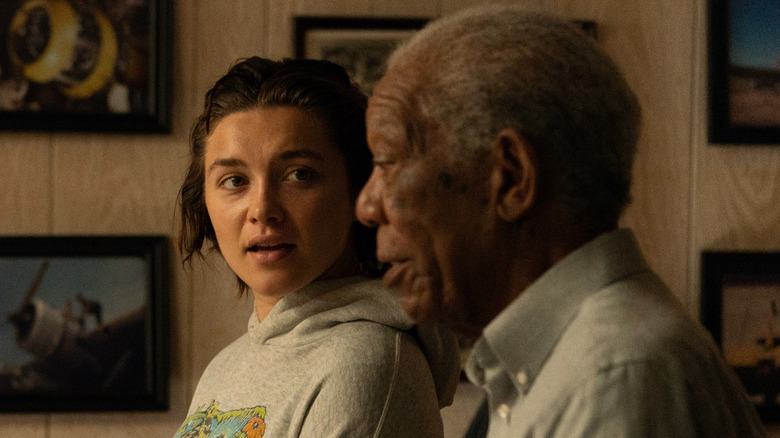 MGM
One imagines Zach Braff was equally jittery about directing world-famous curmudgeon Harrison Ford in "Shrinking." By that point, though, it seems Braff had figured out the key to getting "great legends" to listen to him: don't show up to set without a clear game plan. Braff said:
"Everybody wants a leader. They want someone with a plan and a vision and to take control of the reins. When they see that there's not, and they see that you don't know what you're doing, that's when they get pissed off and things go rogue."
Indeed, watching the movies he previously wrote and directed, you get the sense Braff doesn't leave a lot to chance. The droll sight gags, the precise blend of whimsy and heavy drama, the carefully curated mixtape soundtracks — these elements feel too measured to not have been deliberately planned in pre-production. Braff also wrote "A Good Person," which may have made all the difference when it came time to court Morgan Freeman for the film.
Despite having previously collaborated on a "big" movie, Braff was nervous about reaching out to Freeman for a "small" film along the lines of "A Good Person." "He doesn't do a lot of indie movies. He certainly doesn't attach himself to movies that don't have financing, and that was our case," Braff explained. Luckily, having a fully-realized vision for the project apparently did the trick: Freeman called back the day after Braff sent him the script "and he didn't even say hello. I just picked up the phone and he said, 'I see myself on every page of this script.' And I was like, 'Does that mean yes?' And he's like, 'Yes, that means yes.'"
"A Good Person" opens in select theaters on March 24, 2023, and expands to more theaters on March 31.