You Hurt My Feelings Trailer: Julia Louis-Dreyfus Is Having An Existential Crisis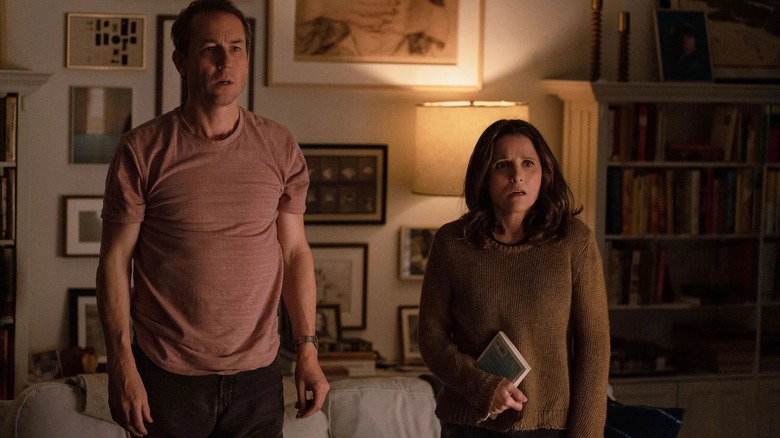 A24
Trust. Support. Honesty. Any relationship, no matter how long any given partners have been together, can't be expected to succeed without these fundamental building blocks. But what happens when you catch someone during a moment where they're just a little too honest? Julia Louis-Dreyfus learns this the hard way in the delightfully simple premise of the very straightforwardly titled "You Hurt My Feelings." Successful but past-her-prime novelist Beth (Louis-Dreyfus) can sense that time is working against her, relegating her as one small voice in a sea of authors who are all clamoring to become the next big thing in the literary world. Wracked by self-doubt, all she has is her past achievements (which should've done better, she's told by friends) and her ever-supportive husband, Don (Tobias Menzies). Nothing seems amiss ... until she happens to overhear how he really feels about her latest work.
Cue the downward spiral and existential crisis that only an actor like Louis-Dreyfus could make as sympathetic as it is hilarious. This slice-of-life story comes from writer/director Nicole Holofcener, known for directing 2013's "Enough Said" (which also starred Louis-Dreyfus) and her writing credits on Ridley Scott's "The Last Duel" and Marielle Heller's "Can You Ever Forgive Me?" The film is set to release later this spring, riding a wave of festival hype. In fact, /Film's Chris Evangelista reviewed "You Hurt My Feelings" out of Sundance at the beginning of this year, praising it as "simply a film about adults having adult conversations" with a "snappy script and hilarious performances."
But don't just take our word for it: Check out the newly-released trailer below!
Watch the You Hurt My Feelings trailer
Yeah, on second thought, maybe honesty isn't always the best policy. Between the refreshingly human story, the talented cast of character actors, and Nicole Holofcener's typically strong grasp of character, "You Hurt My Feelings" has the makings of being one of the year's most quietly effective little dramas — in other words, precisely the kind of film for adults that we desperately need more of these days.
Written and directed by Holofcener, the film stars Julia Louis-Dreyfus ("Seinfeld," "Veep," "Black Panther: Wakanda Forever") and Tobias Menzies ("Outlander," "Game of Thrones," "The Crown") along with Michaela Watkins, Arian Moayed, Amber Tamblyn, David Cross, and Jeannie Berlin. "You Hurt My Feelings" comes from acclaimed indie studio A24, which should add a boost of prestige air to the proceedings, as well. Expect the film to hit theaters on May 26, 2023.
From acclaimed filmmaker Nicole Holofcener comes a sharply observed comedy about a novelist whose long standing marriage is suddenly upended when she overhears her husband give his honest reaction to her latest book. A film about trust, lies, and the things we say to the people we love most.