The Full History Of Lance Reddick's Unforgettable Eric Andre Interview
Adult Swim
There is no talk show guest experience like going on Adult Swim's "The Eric Andre Show." Andre, a surrealist prankster comedian whose antics regularly offend, does his best to terrify and torture his guests on the talk show from Hell. There have been some memorable interviewees who managed to get on the same weird, Dadaist level as Andre, like rapper Tyler, the Creator and skateboarder Tony Hawk, but no one expected "The Wire" star Lance Reddick to sit down in the stuffy warehouse and put up with the show's bizarre gauntlet. His appearance on the 2013 episode of the late-night series was pretty unexpected in and of itself, but his actions in the episode are even more surprising. Reddick not only punches Andre's desk and storms off, he then comes back dressed in rags with chains, a visor, and a Starfleet communicator badge on his bare chest. The actor always commits completely to a role, but it's truly wild to see him commit to a truly ridiculous comedy bit with the same passion. 
Reddick has died at the age of 60, and fans everywhere are posting the video of his appearance on "The Eric Andre Show" to honor his ability to absolutely nail every task he set himself to. In an interview with Jim Norton and Sam Roberts of the "Jim and Sam Show" on SiriusXM, Reddick explained how the whole bit came to be, and it makes the whole thing even more incredible. 
Giving the host a little scare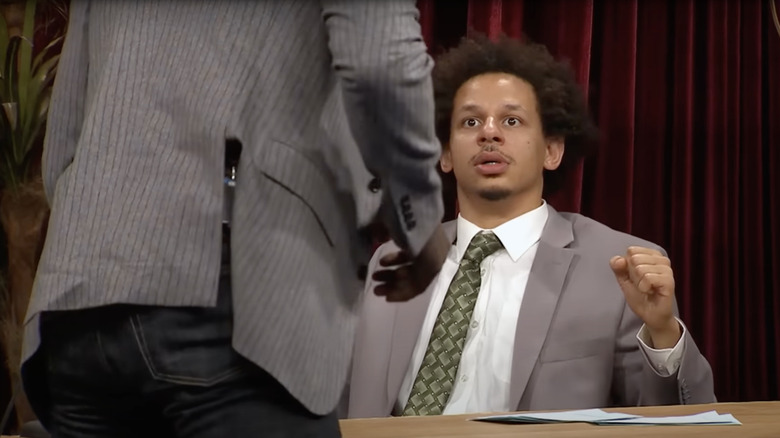 Adult Swim
Reddick explained that he got the offer to do the show and had never heard of it, so he went online to check it out and was understandably confused. For those who have not seen Andre's bonkers bits, it's sort of one-part "The Tom Green Show" and one part "Jackass," and most of the jokes are born out of pure absurdity. It's not the kind of thing actors of Reddick's stature tend to tackle, but he was intrigued. After talking to some friends and being convinced, he and Andre got on the phone to discuss bits. That's a pretty big deal for Andre, who likes to shock his guests, but apparently, Reddick was given a lot of control:
"I get there that day and all that stuff goes out the window. So then he decides, 'Oh, let's try this.' So that's literally in the dressing room, like I don't know, 15, 20 minutes before I'm supposed to go out there he pitches me this LeVar Burton thing. And he hands me some stuff, he said, 'Kinda say this stuff, but you can ad-lib too. So, and the moment — I mean, there was some crazy stuff that didn't even get on. Like, for example, at one point he had an exercise video on a television screen playing and he wanted me to be sitting in the chair kinda trying to do the exercises with the video. And the getting angry thing, he said, 'On the next take just get pissed off and walk away.' And then — I mean, to slam the desk, that was just spontaneous."
There are only a few times where Andre has seemed genuinely startled or frightened by his guest's reactions, but Reddick slamming the desk is definitely one of them. 
Next-level ad-libs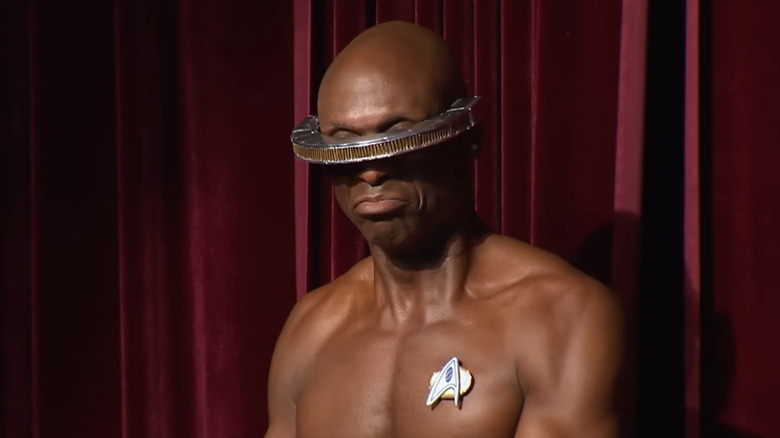 Adult Swim
After Reddick storms off, he comes back in a LeVar Burton-inspired get-up and goes on a wild riff, yelling about how he wants his own slave role. It's, uh, a lot, but Reddick viewed it as just another role to take on:
"I mean, I am a bit of a clown, so I love that kind of stuff. I mean, my background is traditional theater, not sketch comedy. So I'm always a little nervous about being asked spontaneously to improvise. But generally if I just kind of say — can you say swear words here? Okay great. So if I just, part of me says f*** it and just kind of jump off, I'm fine."
The initial idea and costuming were Andre's, but everything else was all Reddick. The swearing, the wild ad-libs (including "you need a new table" right after slamming it), and the pure intensity were the performer leaning into the wildness of the setting. Even "don't rainbow read me" was ad-libbed, and that's some seriously funny s***. Lance Reddick could do anything, and he will be deeply missed.