Shazam! Fury Of The Gods Used Lucy Liu As A 'Guinea Pig' For Its Dragon Riding Tech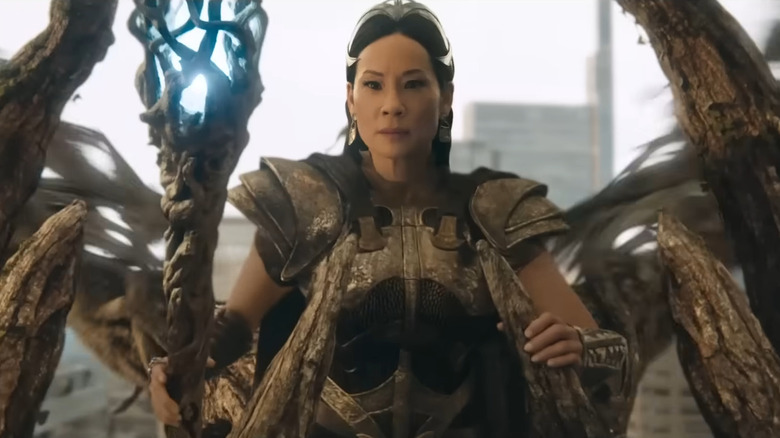 Warner Bros. Pictures
The following article contains mild spoilers for "Shazam! Fury of the Gods."
In "Shazam! Fury of the Gods," Lucy Liu plays Kalypso, one of the daughters of the titan Atlas along with Helen Mirren's Hespera and Rachel Zegler's Anthea. Kalypso and her sisters are furious that the Wizard (Djimon Hounsou) has taken the power of the gods and given it to children, locking them away in their own realm. As we learn in the film, they've been freed from that realm because Shazam (Asher Angel and Zachary Levi) threw away the broken staff. Now that they're out, they want revenge. 
In Greek mythology, the daughters of Atlas (often called the Hesperides) guard a tree with golden apples, assisted by a dragon named Ladon with 100 heads. He's a little different in the film, being made of wood (with only one head) and able to blast blue fire and use the power of fear. Like Daenerys Targaryen from "Game of Thrones" (a reference Shazam makes in the film), Kalypso rides this dragon, destroying everything in her path. 
Obviously, the dragon isn't real, so Liu had to shoot her scenes on a rig that was pretty new in terms of this sort of use. Liu recently joined Levi on "Good Morning America" to discuss the film and being among the first to ride it. 
'So it was like being a guinea pig on it'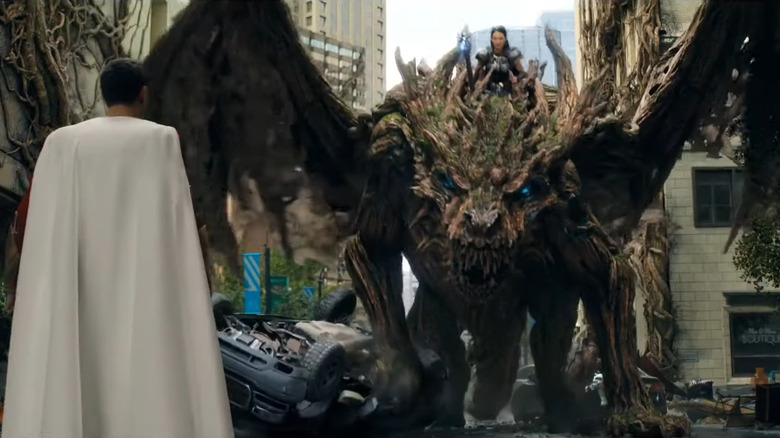 Warner Bros. Pictures
According to Liu, the rig she was using was originally created for cars, and this was one of the first times they were using it. She explained: 
"So it was like being a guinea pig on it. And it was this sort of — pistons connected, and they had built a little saddle for me to sit on, and they hooked me into the wire. And then, of course, the visual effects and all the post-production created this magical creature. And this dragon is made out of wood."
Levi jumped in to explain to the hosts that the dragon in the film is supposed to be comprised of wood but that the rig itself wasn't. Liu was actually given a small model of the dragon, so she had some idea of what it looked like, "because otherwise, you're just sort of sitting on something that doesn't look anything like what it is. I mean, that's the magic of what everybody does behind the scenes."
Liu's character spends most of the third act on Ladon. It's important to know what your trusty steed looks like. During the press day for the film, I spoke to Liu about the dragon. She told me, " ... they plopped me on there, and they made it very easy. We tested it out, there's different speeds that you could go at ... I'm glad I was the guinea pig." 
Sounds scary to be trying out new machinery that you're actually on, but Liu seemed pretty happy about it. She even told me, "I'm going to sign it. I'll put my fingerprints on it like it's a star on the [Hollywood] Walk of Fame or something." 
"Shazam! Fury of the Gods" opens on March 17, 2023.