Harrison Ford Says He's Never Played A Character Like 1923's Jacob Dutton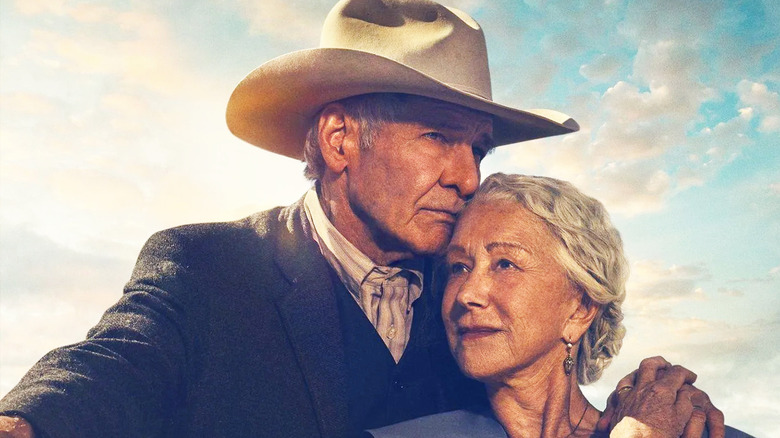 Paramount+
Harrison Ford is trying new things of late, and we're all for it. After decades of sticking exclusively to movies, barring that cameo he did for "The Young Indiana Jones Chronicles" in the '90s, the veteran star has finally waded into the streaming waters and fully immersed himself. His role as rancher Jacob Dutton on Paramount's "Yellowstone" spin-off "1923" has seen him at his gruffest and most resolute, as his character faces the harsh realities of life in rural Montana.
But perhaps the most charmingly surprising role he's taken on is that of Dr. Paul Rhodes in Apple TV+'s "Shrinking," wherein he displays a refreshing comedic sensibility that even surprised his co-star, Jason Segel. And if you ask the 80-year-old, surprising people, including himself, is exactly how he wants to spend his twilight years. The actor spoke to The Hollywood Reporter following his foray into TV, explaining that "after two years of sitting on [his] ass during COVID" and while waiting for "Indiana Jones and the Dial of Destiny" to get underway, he was eager to take on new challenges once the global pandemic eased.
"I wanted to do different things. So ['Shrinking'] came along, and then, very quickly after that, '1923' came along. I took the job without a script on both of them, on faith that the people who created the projects were going to deliver me a good script."
But whereas his role in "Shrinking" seems like the most unlikely move for Ford, it seems he actually sees Jacob Dutton as the character most unlike any other he's ever taken on.
Ford found Dutton 'complex and interesting'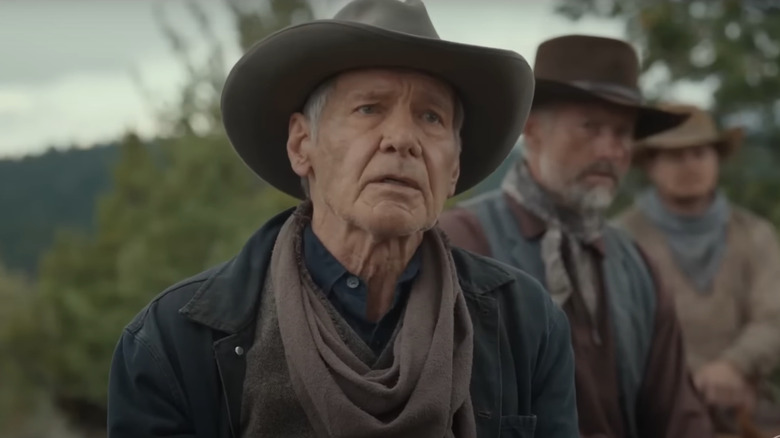 Paramount+
Harrison Ford likes to play characters he can feel some sympathy for, or identify with on some level. Whether it's the cynicism of Han Solo or the tenaciousness of Indiana Jones, the actor always looks for a part of himself in whatever part he agrees to play, remaining completely unconcerned with his "image" and very much interested in, as he told Playboy in 1988 (via The Daily Beast), "anything if it made a good point [or] had significance."
And it seems that's exactly what he saw in Jacob Dutton. The rancher in charge of the Yellowstone Dutton Ranch during the early 20th century, Dutton is a weary yet determined patriarch (sound familiar?) who battles all manner of threats to protect his family and land. Ford, who owns his own ranch in Jackson, Wyoming, clearly found something to sympathize with in Dutton, as well as something completely new to contend with. The "Indiana Jones" star spoke to Yahoo about playing Dutton and said:
"I haven't played a character like this ever. The complexity and his moral journey in terms of the decisions he has to make are complicated and interesting. I want audiences to see the struggle of a determined man in specific circumstances."
Taking on multiple projects at the age of 80 and portraying a character with that kind of depth sounds pretty determined in and of itself, demonstrating how even late in his career Ford is still looking to make something of "significance."
Dutton is perfectly suited to Ford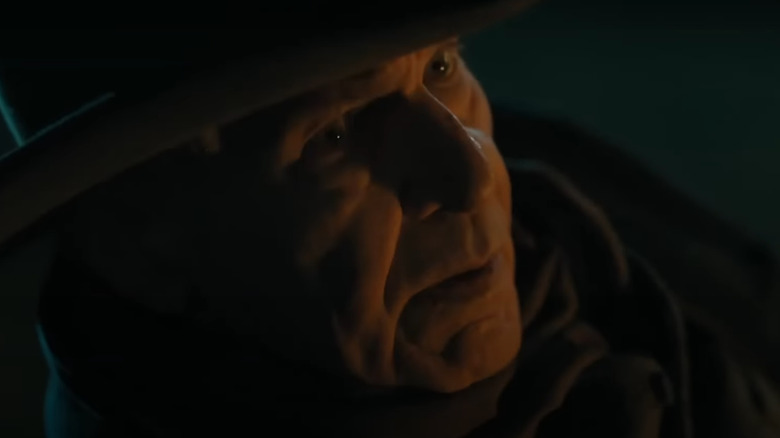 Paramount+
Over the course of a decades-long career, Harrison Ford has proven himself a multi-faceted and dedicated performer. Even on the upcoming "Indiana Jones and the Dial of Destiny," Ford wasn't afraid to get physical, attempting as many stunts as the crew would allow. That's also the case in "1923," where he impressed director Ben Richardson — as The New York Times noted — by riding horses up steep mountains, against "knife-sharp winds," in order to convincingly depict Jacob Dutton's search for new fields for his herds.
But what's really interesting about Ford's portrayal of Dutton is that it allowed him to fully explore that kind of jaded yet resolute character in more depth. Far from the sly rakishness of his early roles such as Han Solo and Indiana Jones, Dutton is a somber and determined figure. Ford gave a glimpse at such a character when he returned to the role of Rick Deckard in Denis Villenueve's beautiful, respectful "Blade Runner" sequel, "Blade Runner 2049." In the 2017 film, Ford infuses Deckard with some of his own world-weariness, fitting nicely within the film's oppressive yet strangely reflective tone.
With Jacob Dutton, he gets to explore a similar energy. While Deckard in "2049" was struggling with the memory of his replicant lover Rachael and resisting incursions into his crumbling Las Vegas hideaway, Jacob Dutton is struggling against the hardships that come with ranch life in the early 20th century and the responsibility of protecting his family. Both seem perfectly suited to late-career Ford, who seems to genuinely enjoy exploring that kind of role. Let's just hope he doesn't bring too much of that to Indy in "The Dial of Destiny." Grumpy Harrison Ford is great, but some roles just need a bit of that old Ford charm.