Damon Lindelof Ponders Whether Or Not He Really Wants To Make A Star Wars Movie [Exclusive]
The state of "Star Wars" movies seems to be, at the very best, uncertain right now — at least as far as anyone in the general public knows. Lucasfilm has been developing a number of projects since "The Rise of Skywalker" concluded the Skywalker saga back in 2019, but we've yet to hear any solid details beyond filmmaker involvement. More recently, both Patty Jenkins' "Rogue Squadron" and Kevin Feige's mystery film set in a galaxy far, far away were shelved. But can "Lost" and "Watchmen" creator Damon Lindelof save the day? Maybe, as he's said to be developing a film in the beloved franchise. However, he's only going to go through with it if it's exactly right.
We recently had the very good fortune of speaking with Lindelof during this year's SXSW in honor of his new show "Mrs. Davis," which premiered at the festival. During our conversation, I asked him what it's like to craft a "Star Wars" movie at this moment in time. Lindelof obviously didn't divulge any details, but he did explain that the high bar for success is something he's put a great deal of thought into:
"I will just say, that for reasons that I can't get into on this Sunday morning, on this day, the degree of difficulty is extremely, extremely, extremely high. If it can't be great, it shouldn't exist. That's all I'll say, because I have the same association with it as you do, which is, it's the first movie I saw sitting in my dad's lap, four years old, May of '77. I think it's possible that sometimes when you hold something in such high reverence and esteem, you start to get in the kitchen and you just go, 'Maybe I shouldn't be cooking. Maybe I should just be eating.' We'll just leave it at that point."
Is making a Star Wars movie a fool's errand?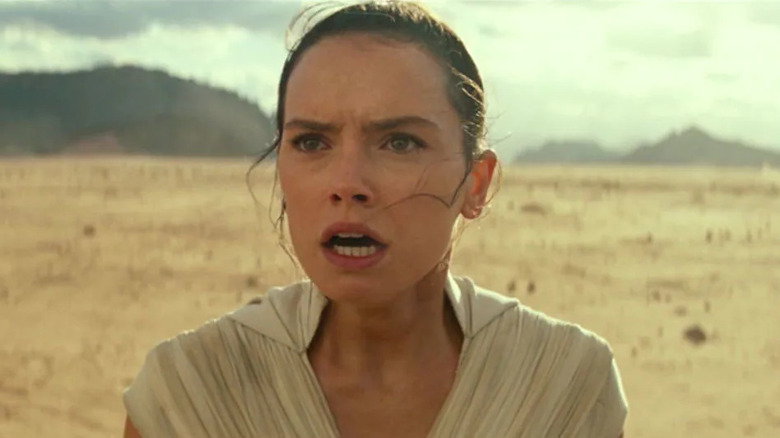 Lucasfilm
Here's the thing: no matter what the status of Lindelof's "Star Wars" film may be at this point, he still couldn't say a damn thing to me or anyone else about it. That's the nature of Disney and Lucasfilm as it relates to this franchise. It's all about secrecy, plain and simple. Having said that, it's extremely clear that Lindelof does not take this lightly, and if his film does indeed get the go-ahead, it's only because he truly believes in what they've cooked up.
Otherwise, it was reported in October of last year that Sharmeen Obaid-Chinoy ("Ms. Marvel") has apparently been tapped to direct the film being developed by Lindelof. Justin Britt-Gibson ("The Strain") is also reportedly co-writing the screenplay. Aside from that? Very little is known for sure, but it is believed to focus on the timeline after the events of "The Rise of Skywalker."
The only further context from our conversation came when I pointed out to him that he faced a similarly difficult situation in crafting "Watchmen" for HBO, which worked out incredibly well in the end. Lindelof, ever humble, simply replied by saying he pulled it off "by the hair of my chinny-chin-chin." He has no delusions about how hard it is to capture lightning in a bottle,.
Quite frankly, given the divisive nature of both "The Last Jedi" and "The Rise of Skywalker," it's going to be an impossible job to make everyone happy. It's not quite a thankless job if it goes well, but if it doesn't? No one wants to be in that position. One can only hope we'll hear more during Star Wars Celebration next month.
"Mrs. Davis" premieres on Peacock on April 20, 2023.