Beef Trailer: Revenge Is A Dish Best Served Raw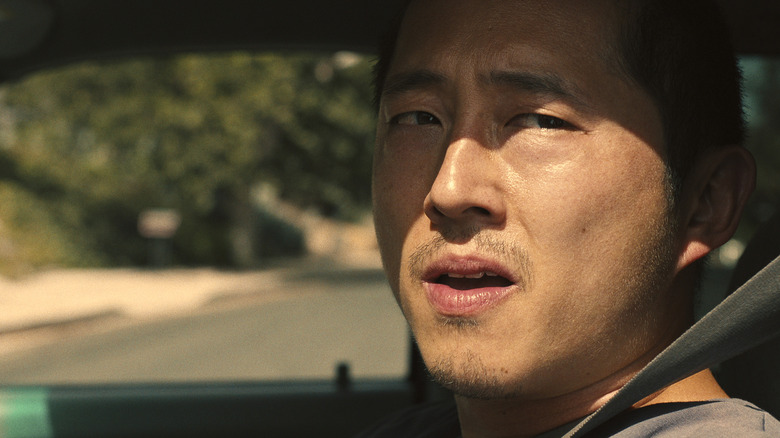 Netflix/A24
Imagine you're having the worst day of your life, drowning in a seemingly never-ending flood of all the most infuriating moments that everyday life has in store for us. You're barely holding it together, plastering a fake smile on your face through it all, and threatening to come apart at the seams at any moment ... and then you nearly get into a car accident in a parking lot with precisely the wrong person. That's the bizarrely mundane premise that kickstarts the action in the joint Netflix and A24 production "Beef," a new television series that sure looks like it needs to be seen to be believed.
Starring Steven Yeun and Ali Wong, the story certainly looks like it takes the phenomenon of road rage incidents and uses it as a jumping-off point to explore some of the darkest aspects of ourselves in as wry and humorous a way as possible. "Beef" actually marks an exciting reunion between Yeun and filmmaker Lee Isaac Chung, both of whom previously worked together on the acclaimed indie feature film "Minari" and will once again collaborate on this new series. If the new trailer is anything to go by, this foul-mouthed and thrillingly fraught series will have lots of people talking.
Watch the Beef trailer
Look out, John Wick, Liam Neeson, and every other tough guy ever depicted on screen, because none of them can even come close to measuring up to the spontaneous explosiveness of a tense road rage incident — especially one involving Ali Wong and Steven Yeun. Set to the strains of "Today" by the Smashing Pumpkins, the footage teases Yeun's self-destructing handyman Danny and Wong's frazzled businesswoman Amy coming to blows and all but waging war against each other after a tense parking lot encounter gone horribly wrong. Because who doesn't love to see talented and otherwise buttoned-up actors let loose in as over-the-top fashion as they can get away with?
Created by Lee Sung Jin, "Beef" stars Yeun, Wong, Joseph Lee as Amy's husband George, Young Mazino as Danny's brother Paul, David Choe as Danny's troublesome cousin Isaac, Patti Yasutake as Amy's hectoring mother-in-law Fumi, and more. The series will run for 10 total episodes with three directors taking the reins: Jake Schreier (6), Hikari (3), and Lee Isaac Chung (1). The series stands as part of a growing number of television shows coming from indie studio A24, more commonly well-known for distributing some of the buzziest and most marketable independent films to theaters around the world.
"Beef" will premiere on Netflix on April 6, 2023.
BEEF follows the aftermath of a road rage incident between two strangers. Danny Cho (Steven Yeun), a failing contractor with a chip on his shoulder, goes head-to-head with Amy Lau (Ali Wong), a self-made entrepreneur with a picturesque life. The increasing stakes of their feud unravel their lives and relationships in this darkly comedic and deeply moving series.