Woody Harrelson And Matthew McConaughey Reunite For An Apple TV+ Comedy Series In Which They Play Themselves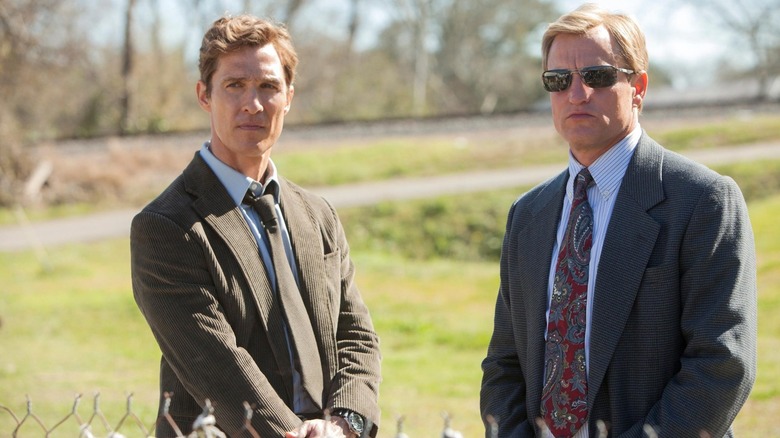 HBO
Fans of "True Detective" rejoice! The stars of the HBO show's first season are reuniting in an upcoming series and, this time, they're both flexing their funny bone. Matthew McConaughey and Woody Harrelson are playing versions of themselves in a new Apple TV+ series.
The two actors have been friends in real life for years, and this new series will give fans an inside look into their dynamic. It is described as "a heartfelt odd couple love story revolving around the strange and beautiful bond between Matthew McConaughey and Woody Harrelson," per The Hollywood Reporter. "Matthew and Woody's friendship is tested when their combined families attempt to live together on Matthew's ranch in Texas."
In addition to starring in the 10-episode series, both actors will also be credited as executive producers. The show doesn't have a title yet, but it promises to be a hilarious autofictional masterpiece with a similar vibe to "This Is the End" or "The Unbearable Weight of Massive Talent," two films where famous actors play comedic versions of themselves in fictional situations.
The show has been created by David West Read, who is best known for the wildly popular CBC comedy "Schitt's Creek." He also developed "Big Door Prize" — slated to premiere on Apple TV+ later this March — a sci-fi series with a comedic edge that's been adapted from M.O Walsh's book of the same name.
The actors' real-life friendship is as funny as a sitcom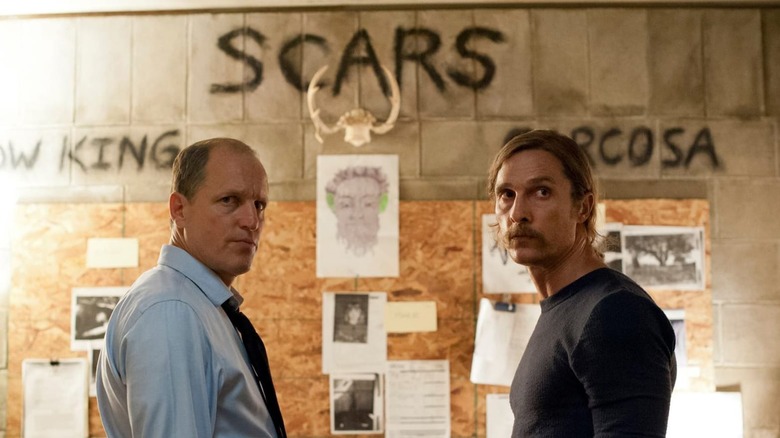 HBO
Woody Harrelson and Matthew McConaughey have been prepping for a buddy comedy for years without knowing it. The two actors first collaborated on the 1999 comedy "EDtv," but the circumstances of their first meeting are a little bit hazy.
"I'm a little dicey on when we first met. Woody, you claim we met long before I think we met," McConaughey admitted in a dialogue with Harrelson and Magic City Books. Harrelson insisted, "You don't remember when we first met, that's the dicey part. I remember, you don't remember."
"There was tequila involved in that night — it was a bit of an impression, a bit hazy," the "Interstellar" star conceded. "But we met one night. I'd always wanted to meet you, and then we worked together, I think it was '97, on 'EDtv.'" McConaughey remembers running into Harrelson at a wardrobe fitting before filming began. Unlike their first meeting, this run-in was totally unforgettable.
"I look out [the window] and there's this man in bike shorts, a professional bike top, and he's still got his professional bike riding shoes on," McConaughey recalled. "That was Woody Harrelson, that's you, and you came into the room and you were basically showing up to say 'I am not here for a wardrobe test, I come to this meeting in my wardrobe and we're not gonna negotiate. This is the wardrobe."
The two actors were friends from that day forward. "I started to love you right then, man," McConaughey told Harrelson.
True Detective didn't give them a chance to bounce off of each other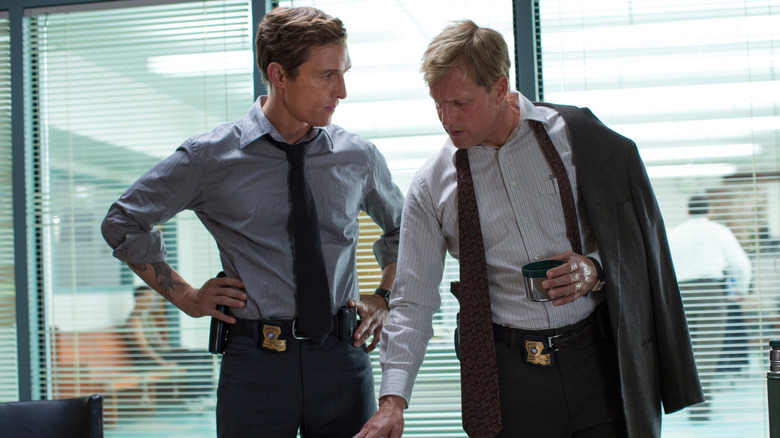 HBO
Over a decade later, they co-starred in the first season of the HBO anthology series "True Detective." The show follows their characters over the course of 17 years, but their real-life friendship has lasted even longer. They were already friends before agreeing to do the series together, but their dynamic was definitely strengthened by co-starring in a series.
"Part of why Woody and I are friends is that we get on each other's frequency, and we affirm each other and one-up each other," Matthew McConaughey explained to Collider. "It can turn into an improvisation, but it can go into the ether, and then some."
However, "True Detective" was far from a feel-good ride-along. McConaughey's character was "very much an island," as Woody Harrelson described it, which didn't give them a lot of room to work off of one another — or to imbue the drama with humor. "Early on, I remember that we said, 'Boy, we gotta put some kind of fun in this. This thing can be a lead weight,'" McConaughey recalled. "We found a new sort of comedy, but it was not the comedy of the two-hander, where I pass it to him, and he passes it back. We were not playing catch, back and forth."
Luckily, this new Apple TV+ series will give the actors plenty of room to "finish each other's sentences" as Harrelson puts it. Both actors are incredibly funny, and it will be a treat to finally see them do some lighthearted riffing. With a solid series creator like David West Read, I think this is the beginning of a beautiful buddy comedy.