Ted Lasso's Season 3 Premiere Makes Us Want An AFC Richmond LEGO Soccer Stadium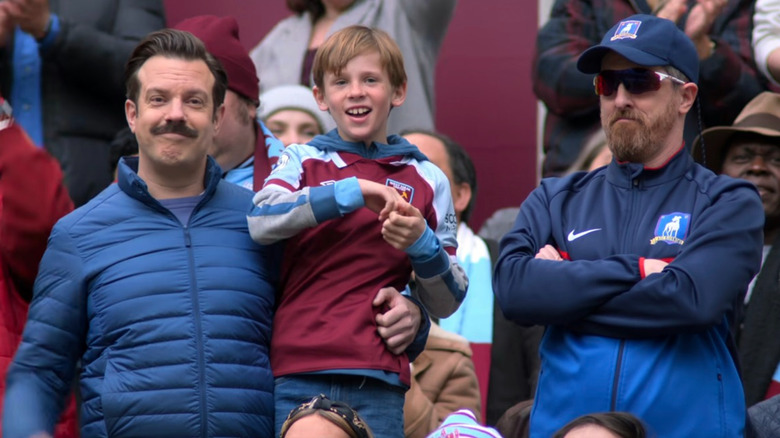 Apple TV+
This post contains spoilers for "Ted Lasso" season 3, episode 1.
The first episode of "Ted Lasso" season 3 (read /Film's review here) is really all about family, but not necessarily the football family that comes together out on the pitch. When Ted Lasso (Jason Sudeikis) was originally introduced to the lackluster AFC Richmond team in the hopeful first season, he was a wide-eyed optimist and a real source of inspiration. As the seasons have gone on, Ted has become a much more dynamic, complicated individual as we, just like the team, get to know him better. In season 2, his unexplained panic attacks begin plaguing him and his divorce looms large. As Ted jokes in the season 3 premiere, he's starting to feel like "Ned Flanders doing cosplay as Ned Flanders." He's just not quite himself anymore.
The opening scene of the premiere finds Ted taking his son Henry (Gus Turner) to the airport after spending some quality time together in London. The time together can sometimes be worse than the time apart, and Ted misses his son more than ever as he puts him on a plane back to Kansas. Back at his apartment, he starts cleaning up a huge LEGO set they've both made together of the entire Nelson Road Stadium, and everyone on the team has their own custom made Minifigure. So many parents can relate to watching Ted clean up every rogue LEGO piece spread out across his apartment, but the only thing I was thinking is how much I want an official AFC Richmond LEGO Soccer Stadium of my very own. 
The makeshift LEGO set Ted and Henry make together actually bookends the premiere episode. It's an important detail that drives home the fact that Henry is rooting for his Dad and AFC Richmond as they enter into the Premier League for the first time. 
Make it so, LEGO!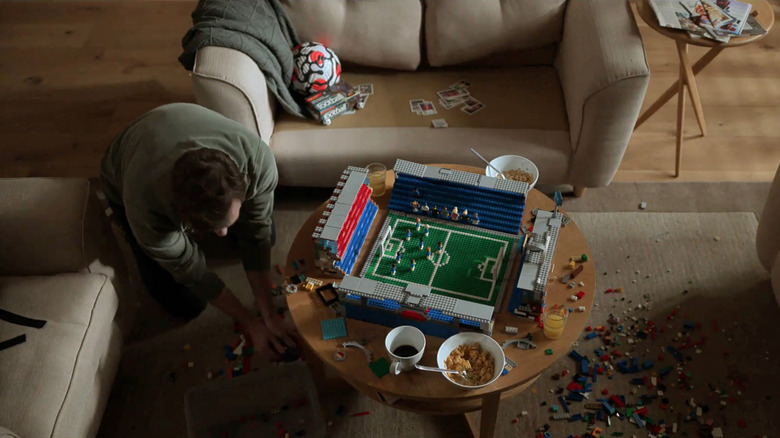 Apple TV+
Henry doesn't want them to wind up ranked last at 20th in the league as predicted, which is why he makes a custom LEGO trophy to help inspire his Dad to go out and try to win it all. There are close-ups of every character that are absolutely adorable. Coach Beard and Roy Kent have drawn-on facial hair (complete with Roy's trademark five o'clock shadow), Higgins has coke bottle glasses, and Rebecca is there looking fabulous even in LEGO form. 
Off to the side, Nate has been placed in the nosebleeds of the stadium, showing how hurt Ted is about his assistant coach leaving the team to lead West Ham after the events of season 2. At the end of the episode when Ted and his son are on a long distance video chat, he places him back with the team at Henry's behest. It's a great way to end the episode, even after Henry reveals that Mommy's new friend, Jake, just bought him the coveted Thanos Infinity Gauntlet Glove, effectively trumping Ted's DIY LEGO set. 
There are already plenty of toy options that exist within the Lasso-verse, including a Ted Lasso Build-A-Bear, a Fischer-Price Little People team set, a Funko Pop! LEGO already made an Infinity Gauntlet Glove, a Manchester United Stadium, and a Real Madrid Stadium (in addition to other stadium replicas), so why can't "Ted Lasso" fans get an AFC Richmond LEGO Soccer Stadium of their very own? Child actor Gus Turner did voice a character in a LEGO video game, so maybe he has some pull. When Henry shows Ted the Infinity Gauntlet Glove, he shouts, "See, it lights up!" If LEGO does ever make a Nelson Road Stadium, it's definitely going to need a Light Kit.
The "Ted Lasso" season 3 premiere is streaming now on Apple TV+.