Ted Lasso Season 3 Review: Big Expectations And A Slightly Shaky Start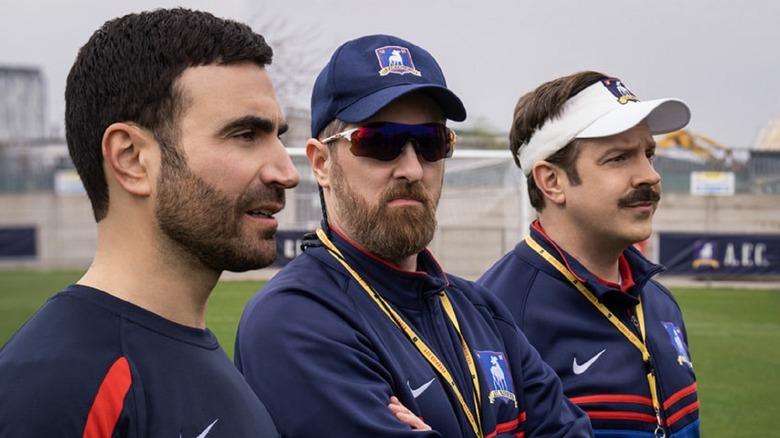 Apple TV+
Near the end of the third season premiere of Apple TV+'s comedy hit "Ted Lasso," the eponymous American coach asks his close friend and fellow coach Beard, "You ever wonder why we're here?" He's alluding to the fish-out-of-water premise of the show, in which Ted (Jason Sudeikis) and Beard (Brendan Hunt) uprooted themselves from the United States to England, where they oversee a European football club, AFC Richmond, while also learning the major differences between American football and soccer. In season one, their gradual awareness of those differences, and how they strengthened the team through their daffy blend of American enthusiasm and positivity, was an easy hook. By now, though, it's not wrong for Ted to wonder if their trip across the pond is something harder to explain, more quixotic in nature.
For now, at least, "Ted Lasso" largely remains a charming and often funny series, though it's not quite as solid as it was in that initial season. (As with last season, there will be twelve episodes this year. I've seen the first four.) The second season, over time, chose to flip the notion of Ted's eternal positivity on its head in two ways: first, Ted's emotional state was explored further not only through his divorce but through panic attacks that had been plaguing him at random. Second, we saw the downside of Ted's enthusiasm as former "kit man"-turned-coach Nate (Nick Mohammed) grew bitter at being ignored by Ted in favor of others. The season climaxed as Nate took his bitterness out on Ted and shifted to become the manager at West Ham, the football club owned by the sleazily charming Rupert (Anthony Head), who is also the ex-husband of Rebecca (Hannah Waddingham), AFC Richmond's owner. If Nate's heel turn wasn't enough, his hair rapidly changing color to white was a fairly obvious visual cue, to boot.
So it's no surprise that the conflict between Ted and Nate takes center stage in the premiere. But the issue — and it is solely limited to the premiere episode — is that Nate's shift into nastiness, first glimpsed in the back half of the second season and still very much on display at the start of this one, is far less nuanced and complex than so many of the characterizations on this show. Many of the characters — not all, but most of them — are fully realized and three-dimensional, so that even side characters feel grander than one-note. But Nate is doing a solid job of hiding his internal impostor syndrome, and instead acting a lot like his new boss Rupert. So in short, he's acting like a huge jerk, a trait that becomes exhausting to watch even after a single scene. Leaving aside how the show grappled with Nate being talented enough to move up from kit man to coach even as the character seems to believe deep down that he's wildly out of place, his anger towards Ted — the man who helped enable that very same journey — just reads as spiteful and unpleasant.
A show figuring itself out again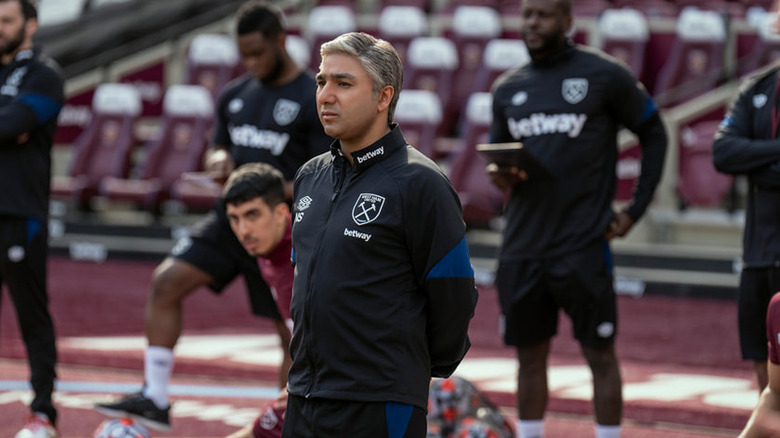 Apple TV+
The premiere, of the four available episodes, is the weakest (while being reasonably okay), also in part because of how the opening stretch especially borders on caricaturish in re-introducing us to Ted, his boss Rebecca (Hannah Waddingham), her close confidant Keeley (Juno Temple), and others. Arguably, the writing staff knows some of the stereotypes are easy to spot, as when Ted enters Rebecca's office for the first time in the season and she notes that he failed to provide "a rhyming salutation." (In a critical scene late in the premiere, too, Ted refers to himself as "Ned Flanders doing cosplay as Ned Flanders.") As is the case with another Bill Lawrence-produced dramedy on Apple TV+, the new series "Shrinking," "Ted Lasso" is often at its strongest when it becomes a hangout show. There are a number of plot throughlines introduced in the opening episodes (including the presence of a mega-superstar who's going to upend the Premier League no matter which team he signs with), but it's best to let the burgeoning ensemble bounce off each other.
While Sudeikis, Hunt, Lawrence, and the rest of the writers clearly adore so many of their characters, they aren't willing to keep things short. Of the first four episodes, the premiere is the shortest and clocks in at 42 minutes, while the fourth is 50 minutes long. (At one point, Lasso says that clarity, more than brevity, may be the soul of wit. Brevity is valuable too.) Of the many subplots, the least fully formed features Keeley and her fledgling PR firm; though its presence may become more important throughout the season, dedicating this much time upfront just stretches episode lengths out too much. Keeley seems intrigued by the possibility of re-kindling a friendship, if nothing else, with her ex Jamie Tartt (Phil Dunster), but Jamie's growth (hinted at as he tries to retrain himself with Roy Kent's assistance) is more compelling if only because it feels more directly related to the matters at hand.
The over-length of the new "Ted Lasso" episodes is hinted at, somewhat, in the opening credits. The actual footage in the opening credits remains the same, as we see Ted in a football stadium, with the seats around him changing color to form his name/the show's title. But the sheer amount of performers listed among the regular cast is particularly massive. It's not that there are too many new characters, but the writing staff is trying to expand beyond the core of Ted, Rebecca, Roy, Jamie, Nate, and Keeley, to other members of the AFC Richmond squad, such as Colin (Billy Harris) and Isaac (Kola Bokinni), as well as the ever-dogged journalist Trent Crimm (James Lance), who manages to get involved in the team's season despite having been fired from his former publication.
Bubbling under the surface remains the emotional flaws behind characters like Ted and Nate. And Ted, whose personal issues were mined more heavily in the past season thanks to a sports psychiatrist (Sarah Niles), now has to grapple with more changes back home with his ex-wife and son. (Niles makes a couple of brief appearances, but is no longer among the regular cast.) There is still plenty happening in "Ted Lasso," with the third season largely focused around whether or not Richmond can finally, as Ted once told Rebecca, "win the whole f**ing thing." With the aforementioned "Shrinking," it's at least logical to understand why a show may have a problem identifying its strengths and weaknesses right out of the gate. "Ted Lasso" still has the ability to be extremely funny, and to hit some surprisingly effective emotional highs. But a chunk of the new season feels like the show is figuring itself out, which is a somewhat baffling feeling for viewers of a show that's been so unassailably strong in previous years.
"Ted Lasso" season 3 premieres March 15, 2023 on Apple TV+.