Mrs. Davis Trailer: A Rebel Nun Battles A Villainous AI In Damon Lindelof's New Peacock Series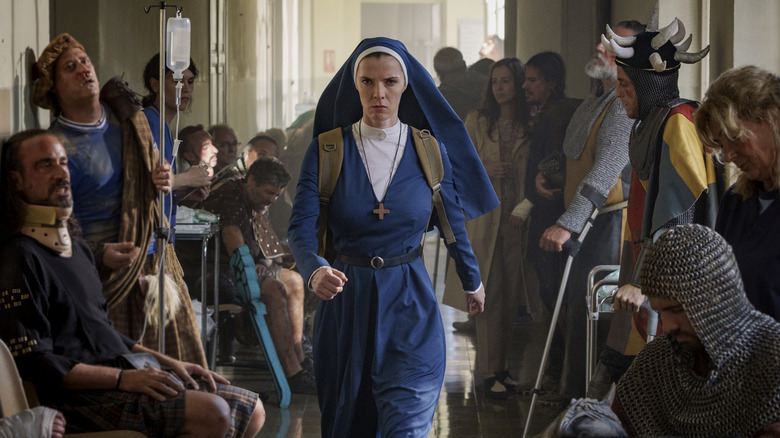 Peacock
Sci-fi writer Damon Lindelof has made quite the name for himself since he's arrived on the scene, tackling incredibly popular material such as the hit show "Lost" (smoke monsters, tropical island-dwelling polar bears, and all!), Ridley Scott's "Alien" prequel "Prometheus," and most recently HBO's brilliant sequel series "Watchmen." Should anyone still be on the fence about Lindelof's talents after some high-profile misses like "Cowboys & Aliens," "Star Trek Into Darkness," and 2015's "Tomorrowland," well, I implore you to check out his work on "The Leftovers," which has earned him the benefit of the doubt for the foreseeable future as far as I'm concerned.
The next item on Lindelof's agenda, however, appears both of a piece and miles apart from his previous output. Peacock suddenly seems like the belle of the streaming wars ball, riding high off the success of Rian Johnson's "Poker Face" series. Now, the streaming service is partnering up with Lindelof on its most out-there premise yet. If you don't believe me, well, let me sum up the series this way: "Mrs. Davis" stars Betty Gilpin as a nun who is suddenly tasked with finding the Holy Grail after the world has come under the influence of an insidious artificial intelligence algorithm.
Peacock has released our first look at the upcoming series, which seems altogether more funny and satirical than anything we've seen from Lindelof thus far. I, for one, am pretty excited to see where this goes. Check out the new trailer below!
Peacock debuts a new Mrs. Davis trailer
When the entire world is taken over by a pervasive AI and nobody even seems to realize it, well, who else would you call to save the human race except "GLOW" star Betty Gilpin?
Co-created and co-written by Damon Lindelof and Tara Hernandez (the latter of whom serves as the showrunner on the series), "Mrs. Davis" stars Gilpin as Simone, the shockingly badass nun who takes it upon herself to rid the world of its most powerful algorithmic entity. Thrust into a quest to find the Holy Grail, she has no choice but to get on her motorcycle and plunge headfirst into her mission, which apparently involves all the surrealist imagery that fans could hope for from a Lindelof production. Rolling pastures eerily filled with dozens of pianos, pockets of human resistance groups, and even a dash of Ren Faire fantasy all highlight the hilariously bizarre world of "Mrs. Davis."
With multiple episodes (including the premiere) directed by "Black Mirror" alum Owen Harris, the 8-episode series stars Gilpin, Jake McDorman, and Andy McQueen along with a strong supporting cast that includes Ben Chaplin, Margo Martindale, David Arquette, Elizabeth Marvel, Katja Herbers, Chris Diamantopoulos, Ashley Romans, Tom Wlaschiham and Mathilde Ollivier.
"Mrs. Davis" premieres on Peacock April 20, 2023 with its first four episodes, followed by a weekly release every Thursday.