National Anthem Review: Classic Americana Is Turned On Its Head In Powerful Queer Ballad [SXSW 2023]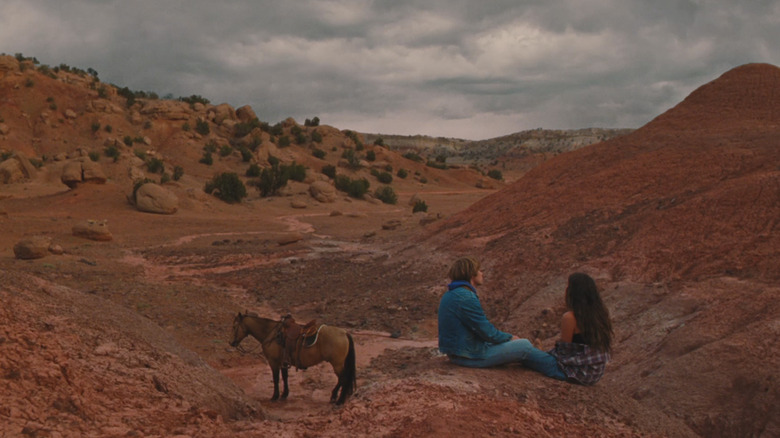 LD Entertainment
In our turbulent sociopolitical climate, it can be hard to remember how important fostering community among fellow LGBTQ individuals is. This is especially true if you're in the South or Southwest, where conservative ideals still reign supreme to the point where it might feel suffocating. It may seem hopeless to realize who you really are, but when you do find your people, it can be the most freeing feeling in the world.
That feeling lies at the center of visual artist Luke Gilford's feature debut, "National Anthem." Set against the sprawling landscapes of New Mexico, the film centers around Dylan (Charlie Plummer), a lonely construction worker who takes an odd job at the House of Splendor ranch. There, his life forever changes when he meets rodeo performers and ranchers from across the queer spectrum, leading to his sexual and gender awakening. From the impressive cinematography to its refreshingly non-pandering script, Gilford further proves himself to be a powerful voice in modern queer art.
Exploring the unknown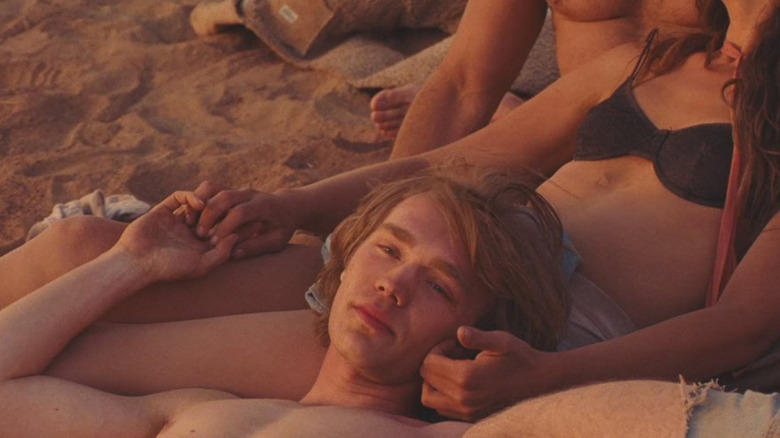 LD Entertainment
Much like the ranches and deserts of New Mexico, finding new aspects of yourself you never thought existed can be a freeing experience, and due to the carefree pacing of "National Anthem," it's replicated onscreen nearly perfectly. Every action that Dylan takes in his journey feels like a natural progression and as if he's been holding in something he didn't even know he was repressing. The seemingly non-scripted flashes of queer life peppered in, modeled after Gilford's monograph of the same name, also help guide the film's compelling story. When the movie does shift over to its more scripted moments, Plummer's performance quietly yet profoundly shifts in a moving fashion. Meanwhile, Eve Lindley gives nuance to an otherwise slightly one-note character in rodeo performer Sky.
However, what arguably makes "National Anthem" stand out from other similar movies is how specifically targeted it feels. It has no interest in holding the hands of straight allies as they explain the importance of communities such as the House of Splendor. It is a story purely about queer people, for queer people and the communities fostered in the face of oppression — this is especially prominent in the film's quieter moments, where the ranchers are seen casually eating breakfast or skinny-dipping in a nearby lake. What would often be criticized as tedious in other movies both feels and is depicted as sacred here, and that's for the best.
Natural to a fault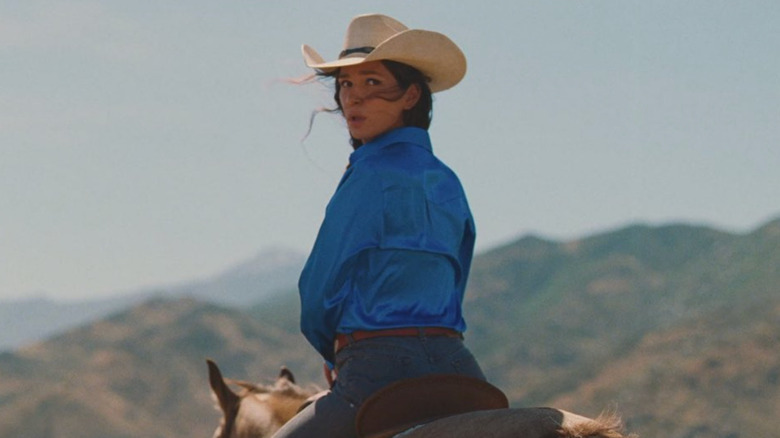 LD Entertainment
In keeping with the film's emphasis on realism, some of the audio often sounds unpolished and even unedited in a few scenes. While it does serve a narrative and thematic purpose, the fuzzy audio often comes off as more grating than anything else. The same can also be said for the rushed nature of the film's emotional climax and how the majority of its characters feel as if they only exist to assist Dylan in his journey. However, not unlike the critique of the film's audio, this could easily be a growing pain of Gilford's transition into features. Given how capable he has proven himself in other aspects of the film's production, it's no doubt that he'll continue to shape his writing and production style even further.
"National Anthem" has premiered at the right place at the right time — the SXSW Film & TV Festival is held in the LGBTQ battleground state of Texas amidst a horrifyingly growing movement against queer expression. However, to purely praise it off on its timeliness would be a disservice to the film itself. Even in a time where the basic human rights of gay and trans people were at risk, "National Anthem" would still be a moving and well-crafted debut anchored by its singular perspective. It just so happens to come at the best possible time.
/Film rating: 8 out of 10