Spider-Man: Across The Spider-Verse Will Explore Five New Universes, But The Fifth One Is A Secret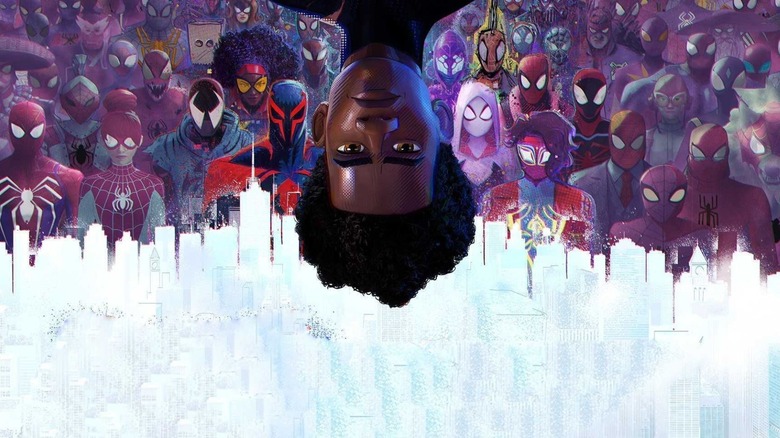 Sony Pictures Animation
Did you watch "Spider-Man: No Way Home" and find yourself thinking, "Three Spider-Men is okay, but what if there were even more Spider-People"? If so, "Spider-Man: Across the Spider-Verse" is the movie for you. The highly-anticipated sequel to 2018's Oscar-winning animated film "Spider-Man: Into the Spider-Verse" will bring back young protagonist Miles Morales (Shameik Moore), but this time instead of Spider-Folk from across the multiverse coming to visit him, Miles will be going on a journey across the multiverse to visit them.
Specifically, he'll be travelling to five key alternate dimensions, according to a new Empire interview with director Joaquim Dos Santos (who co-directs with Kemp Powers and Justin K. Johnson). New artwork from the film, seen below, reveals one of these five universes: Mumbattan, an India-inspired vision of New York City. In fact, it sounds like Miles will be exploring various multiversions of New York City: Spider-Gwen's (Hailee Steinfeld) home universe, Earth-65; Nueva York, where Oscar Isaac's Spider-Man 2099 dwells; and New London, where Miles will meet Daniel Kaluuya's Spider-Punk.
"Our contract with the audience is to bring them something they've never seen before," writer/producer Christopher Miller told Empire. His regular creative partner and fellow writer/producer Phil Lord added, "It goes hard ... The visuals will be jaw-dropping."
But we won't be seeing all of those visuals ahead of time. The fifth universe is being kept secret for now, and we might not find out what it looks like until "Across the Spider-Verse" releases.
It's going to be a trip
The obvious thought that comes to mind is that the secret fifth universe is a live-action universe that will be stuffed with cameos ... but hopefully "Spider-Man: Across the Spider-Verse" resists that idea and goes with something less obvious. Though Sony Pictures does have a deal with Marvel Studios that could theoretically allow any number of Marvel Cinematic Universe characters to pop up, it's kind of nice to have Miles and his pals in a multiverse of their own. 
Besides, this movie is already packed with interesting characters. In addition to the return of Miles and Gwen and their cute, awkward teenage romance, there's also the aforementioned Spider-Man 2099 and Spider-Punk, Jessica Drew aka Spider-Woman (Issa Rae), Pavitr Prabhakar aka Spider-Man India (Karan Soni), and supervillain Jonathan Ohnn aka the Spot (Jason Schwartzman), whose superpowers could prove to be very visually interesting in their animated form.
"Spider-Man: Across the Spider-Verse" releases in theaters on June 2, 2023. Another sequel, "Spider-Man: Beyond the Spider-Verse," will release on March 29, 2024.