Spider-Man: No Way Home Image Reveals The Big Spoiler Everyone Already Knows By Now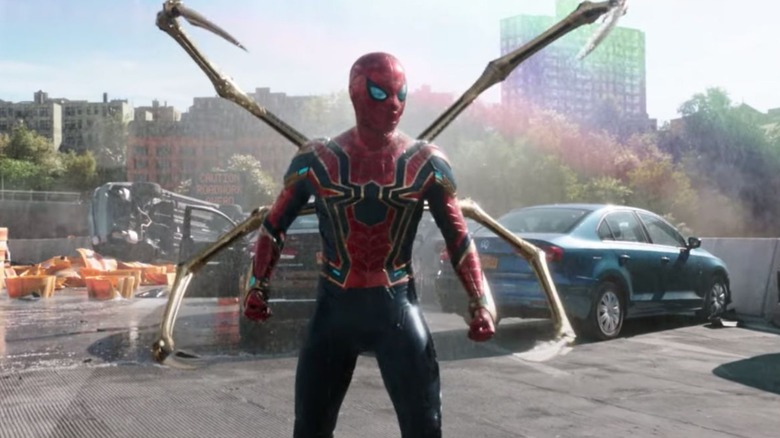 Sony
If you've miraculously shielded yourself from "Spider-Man: No Way Home" spoilers up until this point, your life may have just gotten a bit harder. For the first time since the film's release in December, fans are seeing a photo from the movie prominently featuring its best and most spoilery part. The image comes courtesy of an interview VFX supervisor Chris Waegner did with the website Befores and Afters, in which he broke down several key special effects sequences in the movie.
Spideys Unite
The image shows all three Spider-Men from "No Way Home" in the same shot, each in an action pose. Tom Holland's Peter Parker, with his Stark Industries-built suit, is front and center. The other two Peters are more indistinguishable thanks to the photo's low lighting, but small differences — like the left suit's slightly brighter color and Peter's signature crouch — reveal that the leftmost figure is Tobey Maguire's Peter Parker, while the right one is Andrew Garfield's. Though the background of the photo is mostly ambiguous, anyone who has seen the movie knows it matches up with the Statue of Liberty-set climax of the film.
After years of speculation about a multiverse reunion, "Spider-Man: No Way Home" brought together all three actors who had played live-action versions of the Marvel hero. Waegner expressed excitement about getting the cast together, saying that "each of them brought their own style to the franchise and to the big screen for the fans." Before and Afters also ran a second image of multiple Peter Parkers alongside the interview, this one showing two Spider-Men perched near the crown of the Statue of Liberty.
The Unofficial Spoiler Embargo Seems To Have Ended
Waegner also talked about the challenges that came with rendering three different Spider-Man suits in a way that could help viewers recognize which of the Peter Parkers was under the mask. Luckily, each Peter has his own signatures, and the Sony Pictures Imageworks team studied "how they swung, how they shoot webs, their physical proportions when they achieve an iconic pose," and more to differentiate between the trio on screen.
This is an awesome shot, but it's also surprising to see it online before the film's still-unannounced home release date. Of course, memes about the three Spideys and our collective newly revived obsession with Andrew Garfield have mostly given away the surprise by now, but the studio seems to have been careful to avoid spoilers, even excluding the other Spider-Men from its steelbook cover illustration. Now, the photo is making the rounds, giving us our first share-able look at the spandex-clad heroes reunited, but also taking away any semblance of surprise fans who are awaiting a home release may have had left.
"Spider-Man: No Way Home" is in theaters now.