M3GAN Wants To Hang Out And Listen To Her Vinyl Soundtrack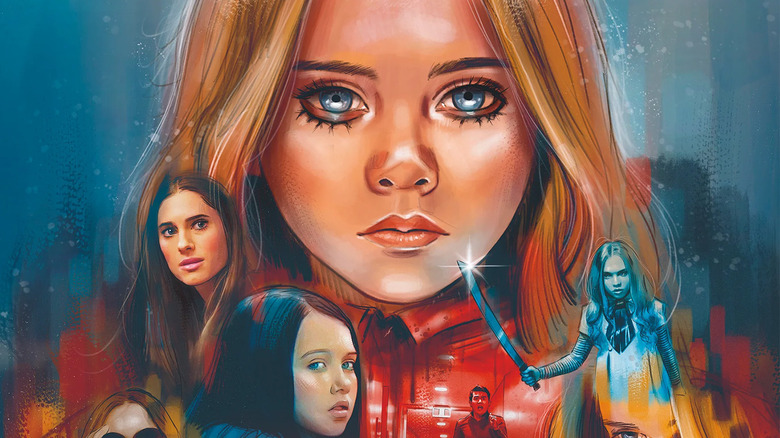 Waxwork Records/Universal Pictures
Now here's something even a killer doll could sing and dance to. Mere months after the horror-comedy "M3GAN" came to theaters and swept the world of its collective feet with its brutally macabre, yet weirdly compelling story of a slightly too-clingy murderous android, fans are about to get the chance to relive all the thrills and scares through its official vinyl release. The popular record label Waxwork Records has unveiled their newest must-have release: the official "M3GAN" soundtrack from BAFTA-nominated composer Anthony Willis ("Promising Young Woman"), featuring exclusive artwork inspired by the film from artist Susi Vilchez, two colorful vinyl discs, and even more goodies for the vinyl collector nerds out there.
Directed by Gerard Johnstone from a script by Akela Cooper and James Wan, "M3GAN" stars Allison Williams, Violet McGraw, Ronny Chieng, Brian Jordan Alvarez, Jen Van Epps, Lori Dungey, and Stephane Garneau-Monten. The vinyl set is currently available to preorder from Waxwork Records' official website, which you can see here. Check out all the details below!
Pre-order the M3GAN vinyl soundtrack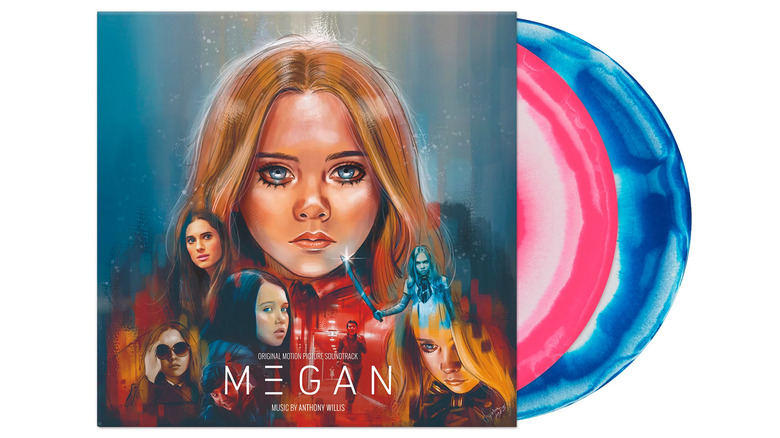 Waxwork Records/Universal Pictures
One thing's for sure: M3GAN knows exactly what she wants. And if you know what's good for you, you'll want this official vinyl soundtrack, too.
Waxwork Records has teamed up with Universal Pictures and Blumhouse to produce the ideal companion piece to the 2023 horror experience that took the world by storm in January. (You can read /Film's review of "M3GAN" by Jeff Ewing here, where he called it "a thoroughly enjoyable blast of a film from the first frame to last, demanding to be seen in a packed theater of eager viewers.") 
Featuring all 29 tracks of composer Anthony Willis' complete soundtrack, the set includes 2xLP albums, one featuring 180 gram pink and white swirl vinyl (Disc 1) and the other blue and white swirl vinyl (Disc 2). The deluxe packaging including heavyweight gatefold jackets with matte satin coating and an art print featuring beautiful work from artist Susi Vilchez.
Those who pre-order this vinyl release from the Waxwork Records website can expect it to ship in June of 2023.
The full features are listed below:
The Complete Soundtrack by Composer Anthony Willis
180 Gram 2xLP Colored Vinyl
Pink & White Swirl (Disc 1)
Blue & White Swirl (Disc 2)
New Artwork By Susi Vilchez
Deluxe Heavyweight Gatefold Jackets with Matte Satin Coating
12"x12" Booklet
From Universal Pictures and Blumhouse, the record-breaking hit centers on M3GAN, a marvel of artificial intelligence: a life-like doll programmed to be a child's greatest companion and a parent's greatest ally. Designed by brilliant toy-company roboticist Gemma (Get Out's Allison Williams), M3GAN can listen and watch and learn as she becomes friend and teacher, playmate and protector, for the child she is bonded to.

When Gemma suddenly becomes the caretaker of her orphaned 8-year-old niece, Cady (Violet McGraw, The Haunting of Hill House), Gemma's unsure and unprepared to be a parent. Under intense pressure at work, Gemma decides to pair her M3GAN prototype with Cady in an attempt to resolve both problems — a decision that will have unimaginable consequences.