Yellowjackets Season 2 Trailer: Rescue Brings No Relief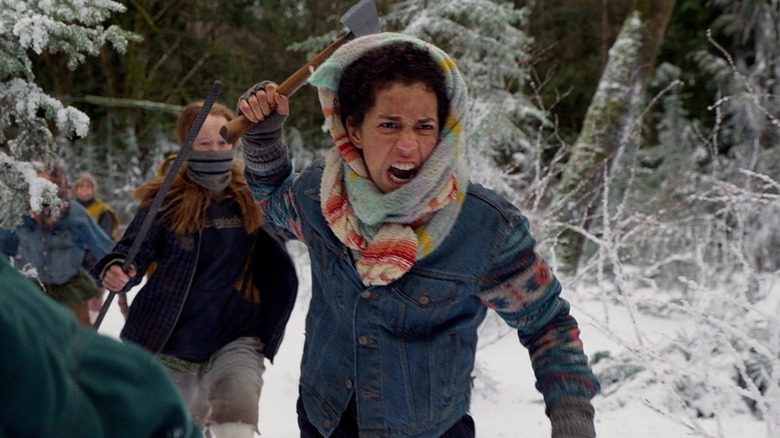 Showtime
When season 1 of "Yellowjackets" debuted to universal acclaim back in 2021, viewers and critics alike were immediately taken in by the story of a high school girls soccer team that descends into chaos and violence in their attempts to survive a plane crash deep in the Canadian wilderness. Split between the harrowing events in 1996 and their adult lives in the present day, the Showtime series chronicled the increasingly fraught and possibly even supernatural events that have followed the traumatized group in the decades since. Murder, kidnapping, blackmail, and all sorts of other sinister goings-on plague the women every step of the way — including the potential of a little bit of cannibalism thrown in there — but that's all part of the fun!
After the season 1 finale, viewers were left with the promise of the next season further exploring the emotional aftermath of what these characters survived out in the wilds. Well, the wait is finally over as Showtime has debuted a fresh look at season 2 with a brand-new trailer. Check it out below!
Watch the Yellowjackets season 2 trailer
When you're trying to emphasize how dark a new season of a buzzy series (pun absolutely intended) is about to get, there's probably no better way to do so than by unveiling a somber new trailer accompanied by a new single from Florence + The Machine, evocatively titled "Just A Girl." Created by Ashley Lyle and Bart Nickerson, the Emmy-nominated series is clearly pulling out all the stops for its next go-around. Singer Florence Welch released the following statement about her collaboration with "Yellowjackets" and the opportunity to perform a cover of the famous (and period-appropriate) original 1995 song:
"I'm such a huge fan of 'Yellowjackets' and this era of music, and this song especially had a huge impact on me growing up, so I was thrilled to be asked to interpret it in a 'deeply unsettling' way for the show. We tried to really add some horror elements to this iconic song to fit the tone of the show. And as someone whose first musical love was pop punk and Gwen Stefani it was a dream job."
The footage certainly doesn't hold back on the horror vibes, showing the group of women in even more disturbing circumstances than we've seen them endure before. Not only is the talented original cast of Melanie Lynskey, Juliette Lewis, Christina Ricci, and Tawny Cypress returning for more, but season 2 will feature the additions of Lauren Ambrose ("Servant") and Simone Kessell ("Obi-Wan Kenobi") in regular recurring roles. They'll also be joined by "The Lord of the Rings" star Elijah Wood, Sophie Nélisse, Jasmin Savoy Brown, Sophie Thatcher, Samantha Hanratty, Courtney Eaton, Liv Hewson, Steven Krueger, Warren Kole, and Kevin Alves.
"Yellowjackets" season 2 premieres March 24, 2023, on Showtime.